Science Teacher (Chemistry, Physics, and other)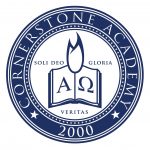 Website Cornerstone Academy
To assist parents in providing an excellent classical education and building godly character founded on a biblical worldview resulting in passionate disciples of Jesus Christ
1520 NW 34th St Admin Office,
Gainesville,
Florida
32605
Position Description
Science Teacher (Chemistry, Physics, and other)  Full time and Part time
Cornerstone Academy is a 20 year old Classical and Christian school just a stone's throw away from the University of Florida in Gainesville, FL.
Cornerstone Academy is seeking a Chemistry teacher, Physics, and other sciences, who is an energetic and creative Christian scholar to lead our students into a deeper understanding of truth, virtue, and beauty.
You must hold a bachelors degree in a science or science education and/or equivalent field experience.
Salary commensurate based on experience and qualifications.
If you are interested in teaching Rhetoric and Logic stage Sciences (high school and/or middle school), please forward your letter of intent and resume to our headmaster, David Leino, at David.Leino@ca.school