Fifth Grade Teacher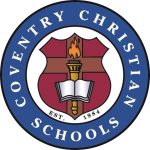 Website Coventry Christian School
699 North Pleasantview Road,
Pottstown,
Pennsylvania
19464 - 2615
Position Description
Coventry Christian Schools, located in Pottstown, PA, is hiring an additional fifth grade teacher for the 2019-20 school year. Coventry Christian School is a stable, established Christian school turned classical Christian, with a 35 year history. The school is characterized by a stable supportive board, administration and student body, vibrant culture and classroom dynamics and engaged parent and family constituency. The successful candidate will be able to demonstrate their current active membership in the church, as well as sign the school's statement of faith.
Additional competencies include:
Completion of the faculty application, interview,  and sample lesson process.
Potential for cooperative collegial relationship rapport with grade level partner and school faculty
Familiarity with classical methods and philosophy, fostering a joy to learn for our students
Demonstrate excellence in implementing the curriculum, including all subject matter, for fifth grade.
Demonstrate the interest in being an integral part of the school community; supporting both the classroom teaching as well as other aspects of lunch and recess duties, field trips, and specific evening commitments as outlined in advance.
Maintain class records in portfolio style for specific subject matters as an ongoing view as well as quarterly report cards in Renweb with timely submission and related communication
Desire to contribute to the improvement and documentation of the curriculum work of Coventry Christian School.
Demonstrate their own ongoing growth and interest in subject matters as a committed and passionate learner.
Applicants may submit their cover letter and resume to the Grammar School Dean,  Mrs. Jill Barton, at jillbarton@educatingorlife.com.