High School Humanities Teacher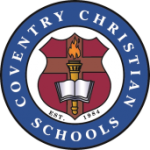 Website Coventry Christian Schools
Ut Vitam Habeant
699 N Pleasantview Road,
Pottstown,
Pennsylvania
19464
Position Description
Coventry Christian Schools is seeking an Humanities Teacher for immediate employment for the duration of the 2018-2019 school year, and beyond.  This position is a full-time teaching position for the academic year. The role includes teaching Logic, Rhetoric, Medieval history, and Medieval literature.
Job requirements include, but are not limited to, the following:
Ability to sign and affirm the school's statement of faith
Active membership in a Bible-believing Christian Church
Bachelor's Degree in the humanities or appropriate field of study for Secondary instruction
ACSI or PA state certification
Experience teaching middle and/or high school students
Dynamic and Engaging personality
Comfort and skill using technology
For additional job information please contact John Mark Niehls, Head of School at either 610-326-3320 or by email at JohnNiehls@EducatingForLife.com.