Front Desk Manager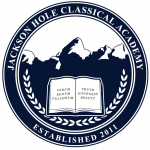 Website Jackson Hole Classical Academy
Position Description
The Jackson Hole Classical Academy (JHCA) Front Desk Manager provides excellent customer service to JHCA families and stellar administrative support to JHCA faculty and staff to allow for the smoothest of operations.
The Front Desk Manager is often the face of the organization to families, visitors, faculty, and staff and should present themselves each day accordingly.
Qualities
●           Organized – You must be able to prioritize tasks and triage what is immediate versus what is important
●           Customer Oriented – You will provide friendly service to parents and students, including during stressfulsituations
●           Excellent written and verbal communication skills – Grammar and spelling will set you free!
●           Data Enthusiasm – You will be a primary point of data entry for the JHCA CRM
Responsibilities (including but not limited to)
●           Provide coffee first thing in the morning for faculty lounges
●           Receive and route incoming calls and emails
●           Distribute mail
●           Keep front desk clean and organized
●           Inventory and order school and office supplies in conjunction with Kitchen Manager and Finance Manager
●           Keep student attendance and contact records updated in OwlNet CRM
●           Provide support to Registrar for data projects in OwlNet CRM
●           Provide first aid to students and coordinate emergency medical response as necessary
●           Log temperature and health checks as part of COVID-19 response
●           Primary point-of-contact with tech support contractors and vendors
●           Perform background checks for new hires
●           Participate in campus cleaning and organizing projects
●           Provide event support to Advancement Office
●           Care for uniform stores
●           Administrate School Library
Associates or Bachelors degree required.