Elementary Teacher 3rd grade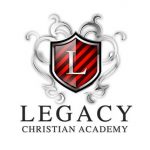 Website Legacy Academy
Position Description
Legacy Academy is located in beautiful Branson, MO.  We ae looking for an Elementary School Teacher – 3rd Grade.
At Legacy our goal over the next decade is to become a trusted leader in Classical Christian Education, by being a premier program in the Ozarks and a pillar of the Branson Community.  Legacy Academy is dedicated to the Classical Christian model and is actively engaged in the Classical Christian community and is working to provide support for other Classical Christian Schools.
It is Legacy's goal to be the hub of a vibrant Christian community for families that are fully engaged in the Classical Christian Education model.  Our desire is for Legacy families to be comprised of parents who understand the interwoven relationship between discipleship and education as it relates to their children and are willing to make sacrifices to ensure it is accomplished, whether it be financially or of their time.  The student body will be characterized as being joyful, possessing a love of learning, and accepting of challenges both academically and in life.  These young men and women will graduate as lifelong learners with a deep devotion to Jesus, and possess the ability to think critically and communicate clearly the Truth, Goodness and Beauty of the Lord Jesus Christ.
The school will operate on its completed campus, proving a safe and secure environment that is ideal for learning.  The school's programs will include successful athletic and performing arts programs, with successful being defined as competitive and provided with excellence.
Legacy Academy will be the choice employer for educators that are committed to the Classical Christian Educational model.  The faculty and staff will be composed of education professionals, that are committed to partnering with Legacy families for the discipleship, education, and development of their children.
Apply by sending resume, cover letter, transcripts and any certifications to [email protected]