Headmaster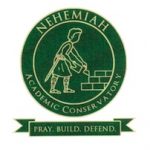 Nehemiah Academic Conservatory
Position Description
Headmaster Position
Are you looking for a challenge?  "Lift  up your eyes,
and look on the fields; for they are white already for harvest."
Nehemiah Academic Conservatory (NAC), located in Shelby County, Ohio, seeks a headmaster for its start-up hybrid classical Christian program.  NAC offers two-day on-site instruction that supports families in their God-given responsibilities to train up their children in the fear and admonition of the Lord so as to be godly in their Christian walk.
The duties of the administrator/headmaster position include:
•    overseeing day to day operations of the Conservatory
•    fostering relationships with the NAC community
•    communicating with the board, staff, parents and students
•    helping prepare students to become moral, ethical, and spiritual leaders
•    supervising students and staff
•    possessing problem solving skills
•    giving direction for funding, revenue, and fiscal responsibility
•    providing continuing teacher training
•    maintaining files on staff and students
•    teaching or substituting as needed
•    exemplifying a Christ-centered life in word and in deed.
Education, training, and experience background will factor into the compensation package for the headmaster.  (Salary is negotiable.)
The headmaster must have a clear testimony of  personal salvation, adhere to the infallible teaching of scripture regarding theology and doctrine, and demonstrate a godly, humble spirit.  The candidate must agree with the Apostles' Creed and with our statement of faith.
Please contact us at: Dr. Robert Amsden 937-638-7964 for voice mail or [email protected]