Secondary Humanities Teacher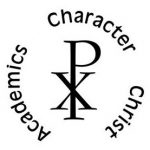 Website Paideia Classical Christian School
Academics. Character. Christ.
Position Description
Paideia is seeking a secondary level humanities teacher who loves God, loves students, and loves learning. In studying history and the Great Books, the teacher will equip students with the tools of learning and cultivate humility and gratitude toward God.
The ideal candidate will be familiar with the classical Christian concept of paideia and experienced in classical pedagogical methods. Salary DOE.
Please submit resume/CV, letter of interest, and short personal statement of faith to Head of School David Spears at [email protected]