Registrar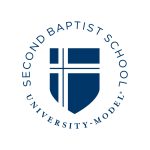 Website Second Baptist School University-Model
Position Description
Registrar Job Description
Second Baptist School University-Model® (SBSUM) is currently seeking a full-time REGISTRAR. To begin the application process, click on the REQUEST AN APPLICATION button.
The SBSUM REGISTRAR must be able to perform a variety of tasks in the areas of enrollment, scheduling, academic performance, and standardized testing for all SBSUM campuses. Registrar work is performed primarily under the direction of the Dean of Academics, with the Dean of Upper School and the Director of College Guidance providing additional direction.
KNOWLEDGE SKILLS/ABILITIES REQUIRED.
To perform this job successfully, candidates must be willing and able to:
Establish and maintain cooperative and effective working relationships with others.
Report to work on a regular and punctual basis.
Perform other related work to accomplish the objectives of the total school program.
Spend time focusing on small details.
CANDIDATE SUMMARY.
We seek the following in qualified candidates:
A bachelor's degree from an accredited institution.
A strong Christian testimony and a calling to serve as a positive Christian role model to our students.
A heart to provide exceptional customer service to all members of the community.
A desire to lead and support all school-wide initiatives.
Exceptional written and verbal communication skills.
Proficiency in technology and strong organizational and multi-tasking skills.
A responsible steward of the school's resources and a personal commitment to support the school's fundraising efforts as able.
REGISTRAR JOB SUMMARY.
Essential functions of the job include but are not limited to the following:
Enrollment
Prepare transcripts for all students new to upper school.
Prepare and maintain accurate student and family data including class lists and transcripts for all students.
Complete withdrawal forms for each student who departs Second Baptist School.
Manage academic and enrollment records in the Learning Management System
Assist with the academic evaluation and data entry of potential students, including prior transcripts.
Scheduling
Assist with course input and course scheduling.
Maintain lists of courses taught currently and previously.
Oversee registration and assist students with the Learning Management System.
Maintain accurate scheduling inside of the learning management system.
Academic Performance
Maintain accurate and complete records of student academic performance inside of the learning management system.
Update records accurately and completely as required by the school administration to report student performance and activities.
Run reports and update dashboards as requested by administration.
Standardized Testing
Order and organize all standardized testing.
Proctor PSAT testing, assist with ERB achievement testing and Advanced Placement testing each spring.
Enter test results for each student.
Assist students with their College Board accounts.
Other Responsibilities
Prepare and maintain accurate employee data
Assist to integrate technologies across platforms and increase efficiencies of data management.
Actively participate in school departmental and parent meetings.
Obtain information for parents when requested, promptly return phone calls and answer emails.
Participate in appropriate professional activities.
Participate in extracurricular activities that include social and sporting events, club and student organization meetings.
Ideal candidates should have three or more years of school experience.  Learning management system management and experience, Advanced Placement training/experience, independent school experience, and prior knowledge of Second Baptist Church and School are all considered a plus.