Grammar School Faculty 2023-2024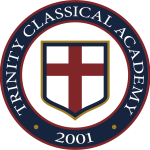 Website Trinity Classical Academy
28310 Kelly Johnson Pkwy,
Valencia,
California
91355
Position Description
Cultural Values
Trinity Classical Academy's cultural values include peacemaking, honest humility, constant zeal, habitual excellence, intentional relationships, and kingdom service. These values inform how the organization operates and should be reflected in all aspects of work at the school. The cultural values at Trinity Classical Academy encourage a commitment to learning, excellence, and the well-being of all members of the community. The school is dedicated to providing an elite Christian, classical education that serves all members of the body of Christ and works to grow the classical, Christian education movement.
Qualifying Characteristics
The candidate is a Christian with an authentic and a mature personal relationship with Jesus Christ in both their professional and personal life with a calling and commitment to Christian education. Qualified candidates will support our School's Mission, while representing our Cultural Values.
Summary
Trinity Classical Academy seeks candidates for a full-time teaching position in its Grammar School (TK – Sixth Grades). Qualified candidates will be models in their lives and abilities of what they teach. They will demonstrate a commitment to improving their craft as a teacher.
Working Conditions
Working Environment: indoors in a comfortable temperature-controlled classroom environment and is typically free from dust and hazardous materials.
Generally works in a group environment; noise level is typically low with the exception of times between class periods.
Requires standing for long periods of time; will include frequent walking and sitting
Able to make visual and auditory evaluation of students work and performance
Physical Demands: Must be able to sit for extended period of time, repetitious hand and body movements, simple grasping, fine and gross motor skills. Stand and walk when administering care. Must be able to bend, squat, kneel, push, pull and lift up to 20 pounds. Must be able to climb one flight of stairs.
Mental Demands: Ability to work well under pressure; ability to maintain a level of professionalism and clam when others are behaving inappropriately;
Use of computer/monitor screen; projector and other classroom equipment;
Travel: Travel will be required for local field trips
Work Schedule
School Calendar: Monday – Friday, 7:20 a.m. – 2:55 p.m. or as needed beyond these hours. Training days and parent teacher conferences may be longer workdays
Please visit our website to apply under Career Opportunities.