Prekindergarten Teacher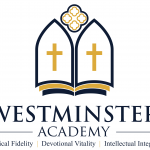 Website Westminster Academy
Dedicated to educating children through its commitment to Biblical Fidelity, Devotional Vitality and Intellectual Integrity
804 North Lincoln Avenue,
Tampa,
Florida
33609
Position Description
Westminster Academy is seeking an experienced and nurturing educator for the full-time position of Prekindergarten Teacher. The school's prekindergarten program is a full-day (8am-3pm) schedule focused on developing young children's curiosity, social and personal relationships, motor skills, and spiritual foundations. The Prekindergarten Teacher provides instruction in an educational environment where students transition into an academic institution through methods consistent with the first stage (grammar) of the classical approach to learning (trivium). This position works primarily with students who are 4 years old and prepares them for kindergarten. This is an annual contact position beginning August 2020.
Teacher applicants must be committed to the historic Christian faith and display a desire to grow continually in their faith in Jesus Christ. They must possess a passion for and exhibit academic strength in their fields, demonstrate a commitment to lifelong learning, and exude a love for children. Additionally, applicants should have a background demonstrating a commitment to classical Christian education either through college coursework, professional experience, or other discipline compatible with classical Christian curriculum. Preference will go to the candidates with experience in early childhood education and a Bachelor and/or graduate degree in related fields.
Full description available on the school website:
https://westminstertampa.org/about-us/employment/
Please submit resume or CV to employment@westminstertampa.org