Classis Quarterly Journal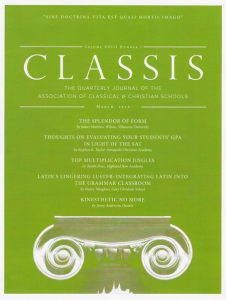 Published quarterly, this journal is for educators and thinkers who want to delve into the details and understand classical Christian education on a deeper level.  We mail this only to schools, but current and back issues are available and searchable online by our members on the Member Resource Center (MRC).
Below is a previous issue of Classis to view as an example.
2016 Volume XXIII, No. 4 (Winter)
Hiding God's Word In Their Hearts: An Apologetic for Scripture Memory in the Upper School
by Karen T. Moore, Grace Academy
The Role of Faculty in Admission
by Independent School Management (ISM)
Unlearning: Challenging Assumptions
by Douglas Wilson, Christ Church
Why Do Parents Choose A School?
by ACCS Staff
The Great Advantage of Latin and Greek
by Sentential Antiquae
Classroom Discussion and the Fiery Headdress
by Laura Young, Providence Classical Christian School
Transcending Human Imagination: The Embodiment of Heroism Manifest in Christ
by Bailey Vaughn, Evangel Classical Christian School