Part-Time Upper School Math Teacher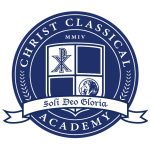 Website Christ Classical Academy
A place to practice the pursuit of truth, goodness, and beauty.
2205 Thomasville Rd,
Tallahassee,
Florida
32308
Position Description
The Part-Time Upper School Math Teacher will teach Algebra II to grade 9 students.
This will be a one hour class, taught five days a week.
Teacher will be responsible for developing lesson plans, teaching the course, grading, and modeling the vision and mission of Christ Classical.