The ACCS
Media Kit
ACCS is organized to promote, establish, and equip member schools that are committed to a classical approach in the light of a Christian worldview.
Fast Facts
The ACCS is the largest and most widely recognized representative of classical Christian education in the world.  We are a membership and advocacy organization that was founded in 1993.  Here are some fast facts about our organization:
Press/media contact

David Goodwin, President. Phone 208 514-0555. Urgent inquiries should email [email protected]

Founded

1993

Organized

We are a 501 (c)(3) incorporated in the state of Idaho in 1994.

Governed

We have a board made up of 7 perpetual, board-appointed seats (vision-holding) with one on sabbatical each year, and a rotating elected board of 3-4 member seats that rotate every 4 years.  We have two advisory (non-voting) seats as well.  The board meets 4 times per year.

Operational

The board employs an executive president to manage the organization and pursue its strategic plan.

Staff

In addition to the president, the ACCS employs between 10 and 15 additional staff members.

Financial

The ACCS operates on a calendar year and has its accounting reviewed annually. The annual budget of the organization is between $300,000 and $500,000.

Member Schools

475 as of 2023

Member distribution

We have members in 47 of the 50 states and in 14 foreign countries (including Canada).

Membership requirements

View our membership requirements.

Key resources and events

Repairing the Ruins Conference—The largest annual gathering of classical Christian educators and those interested in classical education. Typically held in the third or fourth week of June.
ClassicalChristian.org—Our organization's web site that serves the general public.
ClassicalDifference.com—Information, news, and articles about classical Christian education for parents, Christians, and those interested in a popular view of the movement.
mrc.classicalchristian.org—Our Member Resource Center, available to members only, which houses our repository of services, curriculum, training, knowledge, network, and student services.
The Classical Difference magazine—Mailed to the families of students at ACCS member schools.
Classis Journal—Our professional journal for and by classical Christian educators.
Logos
Here are our logos in PNG small format for web pages. Visit the EPS Logos page for higher quality EPS files, more suitable for print use.
MEMBERS:  We have more logos available in Member Resources.

David Goodwin speaks about classical Christian education at the Reagan Library.
The Classical Difference
The Classical Difference magazine audience includes parents at ACCS member schools and individual subscribers. Also, ACCS member schools receive additional copies to give to existing and potential parents, to place in their lobby areas, etc. More can be ordered for open house and other events.
The Classical Difference website aims to unite, inform, and build the classical Christian community on a national level. It provides news, videos, blogs, events, and other information for anyone interested in learning more, as well as for existing parents, teachers, and supporters.
Visit The Classical Difference Website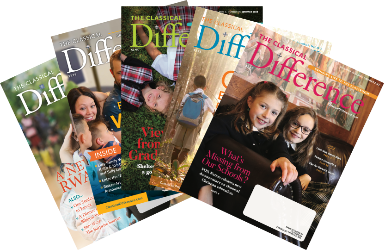 CLASSIS
Published three times per year, Classis is a journal promoting a new "old way" and is designed to edify, support, and encourage educators around the world who seek to recover classical Christian education in the twilight of the West.
This publication is mailed to all member schools, and current and back issues are available and searchable online by our members on the Member Resource Center (MRC).