Rhetoric School Spanish Teacher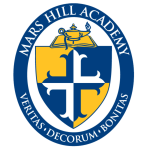 Website BeautyTruthGood Mars Hill Academy
Learn Truth. Love Beauty. Live Goodness.
4230 Aero Drive,
Mason,
Ohio
45040
Position Description
Mars Hill Academy seeks a qualified, part-time, upper school Spanish teacher beginning Fall 2023. Applicants with a heart for discipling young adults should possess at least a bachelor's degree in a related field and display the "four loves": a love for Christ, a love for students, a love for the subject areas, and a love of classical education. Experience teaching in a classical Christian school is preferred. Priority will be placed on applicants with prior teaching experience who are confident implementing the distinctives of a classical education—Socratic teaching, the integration of the Christian faith and learning with the ability to show how logical reasoning and language reveal the nature and character of God. Mars Hill Academy is committed to teaching all truth as God's truth through the lens of Scripture and a consistent, integrated Christian worldview. Applicants should be able to demonstrate an understanding of and adherence to the same. If interested, please go to https://www.marshill.edu/about/our-team/employment-opportunities.html.