Pre-K Teacher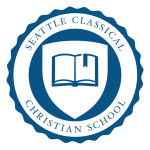 Website Seattle Classical Christian School
SCCS offers joyful education that is centered on Jesus & embraces the rigors of the classical method.
Position Description
Seattle Classical Christian School (SCCS) is looking for a skilled Pre-K teacher with a knowledge of child development and a love for young children. Pre-K meets 5 days a week from 8:30am to 11:45am with options for parents to have their students at school for lunch and an additional recess. There is an option for this position to be full time with admin or aid work. The Pre-K teacher will lead students in simple math, pre-writing skills, letter formation, exploration of the body, and community helpers. Candidates need to adhere to the SCCS statement of faith. SCCS is a growing school with a dynamic community. Please email [email protected] for more information.