Principal/Head Teacher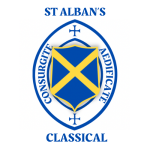 Website stalb_classical St Alban's Classical Academy
Consurgite, Aedificate
Position Description
Full time Head Teacher (January 2024 Start)
Overview: An exciting opportunity to start a new independent school in Eastleigh, England. This position includes teaching duties as well as administrative duties.
Description:
This position offers a unique opportunity to revive the long-lost heritage of Classical Christian Education in England by joining a team of enthusiastic parents and teachers to help establish the Classical Christian education in Southern England. Our ideal candidate will be a qualified teacher who has taught previously. A person who has a good understanding of classical pedagogy and who possesses a distinctly Christian view of the purpose of education.
Salary and hours: £25,000 – £30,000 depending on experience.
Full-time (40 hours, 8-4pm, Monday – Friday) + meetings, twilight training and teacher training days. 36 weeks per year, 1 year minimum contract. The school offers generous teacher training and planning days.
TLR: There are opportunities for teaching and learning responsibilities and career progression for suitable candidates.
Holidays: We offer an impressive 15 weeks holiday per year, plus bank holidays.
Responsibilities:
The candidate will carry out the professional duties of a teacher as set out in the DfE's Teachers' Standards document. The successful candidate will be responsible for the planning and delivery of lessons; monitoring and assessing students' progress against EYFS and Year 1 outcomes; communicating effectively with staff, parents and governors; tracking and reporting progress to the school's leadership team and local authority; and safeguarding children. The teacher will introduce students to elements such as recitations, great literature, music, artwork and age-appropriate Maths and English to help prepare students for more formal study in later years. These are the typical duties the candidate will be expected to carry out but other duties of a similar type and level may be required from time to time.
Person specification:
St Alban's Classical Academy is pioneering classical Christian education in the United Kingdom; therefore, it is imperative that we have a strong team of teachers that have high standards and model the Christian virtues we wish to develop in our students.
Essential attributes:
This post carries a genuine occupational requirement to be a Christian as defined under the Employment Equality (Religion and Belief) Regulations 2003.
 Possesses suitable qualifications.
 Has a strong work ethic with a can-do attitude.
 Can demonstrate initiative and is resourceful.
 Has a good understanding of the curriculum and age-related expectations
 Acts as a team player and is willing to support others.
 Knowledgeable in the area of Classical Education or has the willingness to learn.
 Demonstrates good Biblical knowledge and applies it to everyday life.
 Values our cultural heritage and is familiar with the great books of the Western canon.
 Exhibits strong classroom management skills.
 Has a passion for teaching and learning.
 Genuinely loves and cares for students.
 Promotes high standards of expectations for students.
Desirable skills:
 Holds Qualified Teacher Status
 Has received a classical education or has taught at a Classical Christian School or has a genuine interest in this area.
 One or more: Musically gifted, Art, Maths subject strength, English subject strength, knowledge of Latin or Greek
Apply: Please apply for this position by emailing the Director your CV and a cover letter to: [email protected]