K-6 Teacher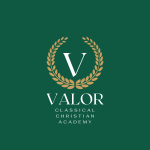 Website Valor Classical Christian Academy
Shaping young people through an enduring education that cultivates wisdom, virtue, and service to Christ.
Position Description
Valor Classical Christian Academy is a brand new school seeking K-6 teachers for its inaugural 2023-24 school year. We are seeking candidates who desire to share their own love of truth, goodness, and beauty with grammar school students; who can demonstrate skill in the cultivation of a gracious, well-mannered classroom; and who possess flexibility (and a bit of adventuresomeness!) for the excitement and unknowns of involvement in a startup!
We also require:
*A college degree or higher
* Experience with (or at minimum strong affinity for and desire to learn) classical methodology
*A mindset of teamwork and community (both with co-workers and parents)
*Willingness to address conflict following a biblical model
Send resume and cover letter to Headmaster Ron Jung at [email protected]