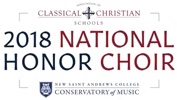 High school students from ACCS-member schools will compete with their peers from other ACCS-member schools (homeschool included) in a national choir competition. Each entering student will submit an unaltered, a capella recording online, to be considered for invitation to the ACCS Honor Choir. The Choir will perform at the national ACCS conference.
Prize: Invitation to perform at the conference
Submission Deadline: February 1, 2019
To Enter: Your school can provide submission materials. A school signature is required.
---