The ACCS national visual arts competition. For ACCS member schools.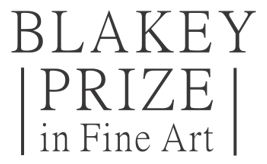 High school students (grades 9–12) from ACCS member schools will compete with their peers from other ACCS member schools in a national visual arts competition. Each school may enter one student's artwork in the drawing category and one student's artwork in the painting category.
Note: Schools may enter the same student in both categories; however, different artwork is required for each category.
Grand Prize: $500 | Runner Up: $250
Awarded at end of school year
Submission deadline: April 12, 2019
To enter, your school can provide submission materials. A school signature is required.
Member schools can find more information in the Member Resource Center.
---
Blakey Prize in Fine Art Winners
2018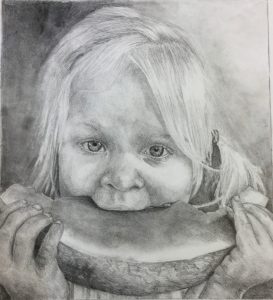 Drawing: First Prize
"My Charlotte Portrait: Girl with a Watermelon"
Blake McEcheren, The Oaks: A Classical Christian Academy (Spokane, WA) 10.5 by 11.5, pencil on paper "A lot of my art has been influenced by Allan Lee's sketches. His drawings, though only using pencil are very alive and flowing. I wanted to capture this in my 'Charlotte Portrait.' My little sister is always so alive and happy, and I wanted to capture that, even in a little moment like eating a watermelon at the beach."
---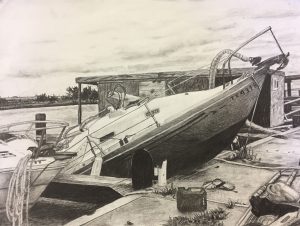 Drawing: Second Prize
"Harvey Landfall, August 25, 2017"
Madison Gohlke, Annapolis Christian Academy (Corpus Christi, TX) 9 x 12, graphite pencil on paper "Ansel Adam's strikingly beautiful black and white photography of God's creation inspired this drawing. His use of value in dramatic lights and darks creates a compelling composition that demonstrate the beauty and power of God's created order. After Hurricane Harvey made landfall in my city, I walked around viewing the scene of destruction and felt compelled to capture it. As I took in the scenes before me, I began to see both truth, goodness and beauty in the midst of the destruction, not only in the ways people helped clean up the mess but even in the mess itself. God indeed redeems the chaos and destruction of this world."
---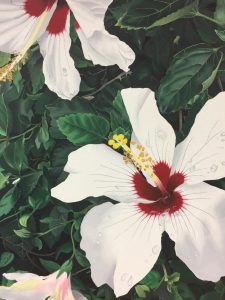 Painting: First Prize
"Paia"
Megan Sheets of Cedar Tree Classical School (Ridgefield, WA) 16 x 20, acrylic on canvas "Paia is a painted illustration of a picture I took while in Paia, a small town on the northern coast of Maui. I was on a walk through a neighborhood with my father right after it had rained. The scent of rain and wet pavement was in the air as we strolled along and looked at the wildly beautiful plant life. We passed a bush adorned with hibiscus flowers and I couldn't ignore it. As I stared at the delicate flowers, in that moment I was not inspired by any specific artist from past centuries. The only artist that deserved credit was God the Creator. During the process of painting, I may have borrowed techniques from multiple artists I learned about in my classes, but I did not consciously think of any names. I only knew that my inspiration came from the first artist that instilled art in me."
---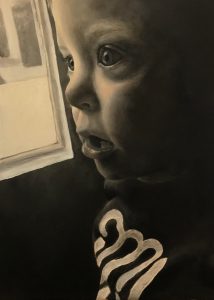 Painting: Second Prize
"In Light of Christ"
Sarah Grace Sapp, Evangel Classical Christian School (Alabaster, AL) 10″ x 14 1/2″, oil on panel "I was inspired to take this photograph of my one-year-old nephew one afternoon when I caught him looking out the window with such a look of innocence and wonder. Because of the composition and his expression, I chose it for the subject of this painting. I painted in black and gray to show what we are like without Christ, but when His glory and majesty shines on us (seen here in the light from the window), we are given true life. I used sheer layers of color where the light falls on my nephew's face to symbolize this miracle. I was inspired by the Dutch artist Johannes Vermeer, who is known for his paintings of everyday life. His focus on the purity of light, composition, and dignity of his subjects is exactly what my desire is in painting my nephew, who was born with Down's Syndrome. I endeavor to show his purity, dignity, and worth in the light of Christ."
---
Drawing Finalists: "Electrified", Atiana Bruce, The Cambridge School of Dallas; "Girl in Thought", Karoline Travoto, Rockbridge Academy; "Gilead", Gresham Bergeron, St. Stephen's Academy; "Haircut", Luke Jackson, Veritas School (VA) Painting Finalists: "Toy Elephant with Fruit", Francesca Norman, The Cambridge School of Dallas; "Eternal Treasure", Sepharina Culp, Rockbridge Academy
---
2017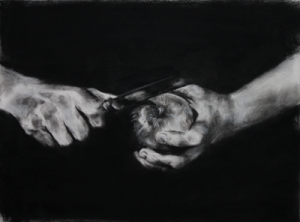 Drawing: First Prize
"Peeling the Apple"
Gadi Edwards, Logos School (Moscow, ID) 14″ x 17″, graphite on paper "My mother was showing me drawings she did in art school. I was highly influenced by the black and white she did that were simple but still very powerful. That's what inspired this drawing the most. I wanted to create something atmospheric and simple; charcoal worked perfectly for it."
---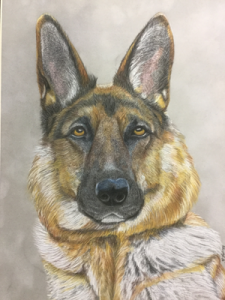 Drawing: Second Prize
"Loyalty"
Ethan Miller, Cary Christian School (Cary, NC) 9″ x 12″, colored pencil "The classical artist that influenced my artwork is Peter Paul Rubens. His realistic, expressive interpretations of lions in "Daniel in the Lion's Den" inspired the realistic illustration of my loyal dog. I strove to capture the immense detail of each strand of fur as well as the expression of loyalty I see in my dog's face every day."
---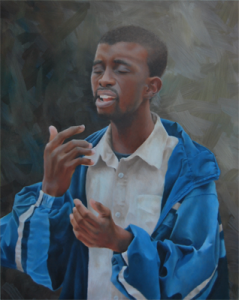 Painting: First Prize
"Praise"
Emma Hankins, Evangel Classical Christian School (Alabaster, AL) 16″ x 20″, oil on panel "My painting "Praise" is in celebration of present day mission work and is inspired by both Christian and portrait paintings created in the fifteenth century by early Flemish painter, Jan van Eyck. In my painting, I tried to capture van Eyck's detailed style of portraiture by working in layers, the same way he painted many of his works. My painting portrays a young man by the name of Bheki Motsa praising God on the mission field in Swaziland, where my fifth grade teacher and her family, whose work in missions also inspired the content of my painting, lived for several years. I believe Christian artists can use their gifts in many ways to glorify God. Capturing worship through painting is a great place to start."
---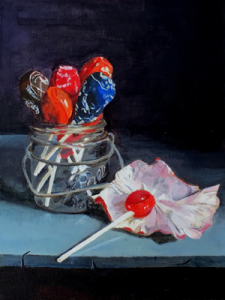 Painting: Second Prize
"Unwrapped"
Jeremy Crawford, Rockbridge Academy (Millersville, MD) 16″ x 20″, acrylic on canvas "In painting class, we were instructed paint a still life through the lens of contemporary realism. I was immediately drawn to the color and joy presented by these Tootsie Pops. I loved the reflection the lollipops had on the jar and the bright but unique color each lollipop gave off. When I was painting, I couldn't help but notice how happy the painting was—it gave off such innocent joy and there was a bit of an inherent sense of story in the unwrapped yet unfinished candy sitting by itself. I have been greatly influenced by the contemporary still lifes of Michael Naples, as well as by the work of 18th c. French painter, Jean-Baptiste-Siméon Chardin. I love how they each use light to navigate the observer through their paintings. Moreover, both have a clever and ingenious way of producing life and a story through ordinary objects. In the same way, I strive to make my artwork more than just paint on a canvas, but a story worth telling, so that, even by means of a favorite childhood candy, my observer might feel moved, intrigued, and delighted."
---
Drawing Finalists: "Left Alone," Wren Lovett, Annapolis Christian Academy (Corpus Christi, TX); "Margaret," Amber Nissley, Veritas Academy (Leola, PA) Painting Finalists: "To Find a Home," Megan Salesman, Veritas Academy (Leola, PA); "Facing the Sun," Megan Sheets, Cedar Tree Classical School (Vancouver, WA)
---
2016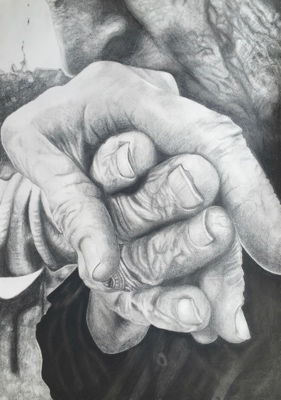 Drawing: First Prize
"To Have and To Hold"
Emily Jordan, Westminster Academy (Memphis, TN) 20″ x 14″, graphite on paper "This piece is a graphite representation of a photography that I took of my grandparents. First and foremost, it was inspired by the subjects themselves, who have consistently demonstrated through their lives and character what it means to live and grow in love and virtue with the Lord and with one another. The concept employed within my reference photograph was drawn from the work of the Italian photographer, Gianfranco Meloni, whose unique and move portraiture is well suited to my own artistic style."
---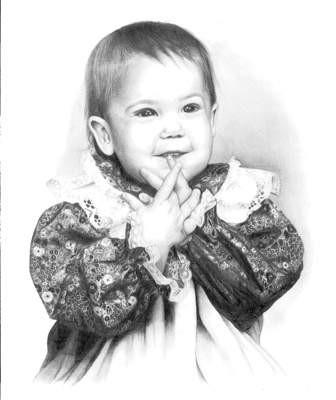 Drawing: Second Prize
"Joy"
Lia VanderPloeg, Cedar Tree Classical School (Vancouver, WA) 14″ x 11″, graphite on paper "This piece is drawn with graphite pencil. It, and all my portraits, are inspired by Michelangelo's sculptures, but more specifically, their faces. Through art and art history classes, I've been drawn to the amazing accuracy of proportion and expression in his sculptures. Because his sculptures have no color—only value—they reminded me of graphite sketches. This particular piece incorporates variety in value, unusual facial expression and angle, just as seen in Michelangelo's sculptures."
---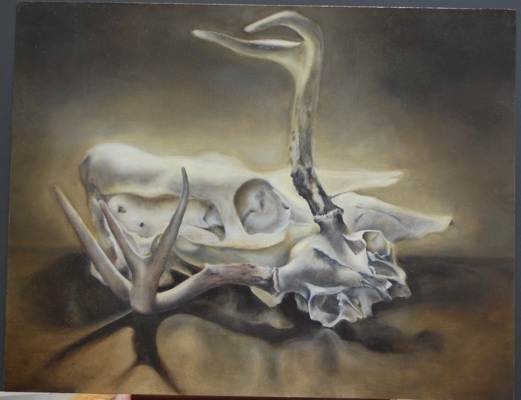 Painting: First Prize
"Composition in Light"
Heather Thompson, Evangel Classical Christian School (Alabaster, AL) 14″ x 18″, oil on panel "I composed my piece as part of a seven-month master study in Flemish oil painting. Painting this still life of a cow and deer skull using Flemish technique involved three distinct layers. By using repeated layers of paint and a series of thin oil glazes, Flemish painting aims at a high degree of detail and realism while maintaining smoothness and subtlety. I have endeavored to capture the elegant structure of God's design within these creatures."
---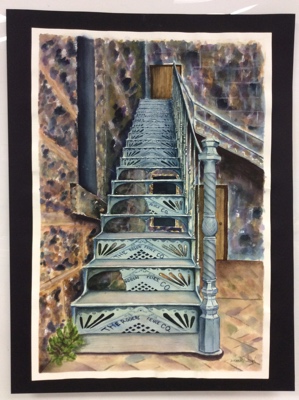 Painting: Second Prize
"A Walk in Fredericksburg"
Samantha Wilmot, Annapolis Christian Academy (Corpus Christi, TX) 22″ x 18″, watercolor on paper "Walking around Fredericksburg, I came across this staircase and was immediately drawn to the charm. My painting technique was influenced heavily by John Singer Sargent's vibrant colors and the blurring of hard and soft edges he used often in his watercolor paintings. The wall, too, has an assortment of bright color, but underneath lies a unifying blue-brown tone that lends coherence to the painting, modeled after Sargent's technique when painting non-human subjects."
---
Drawing Finalist: "Floral Study," Kialynn Palpant, The Oaks: A Classical Christian Academy (Spokane, WA) Painting Finalist: Summer Lemonade," Emma Feeney, Rockbridge Academy (Millersville, MD)
---
2015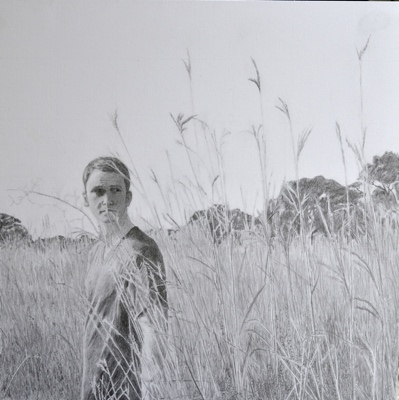 Drawing: First Prize
"Afield"
Drew Griffith Rockbridge Academy, Millersville, MD "My drawing represents a desire in my work to portray realism and accuracy like that of modern artists such as JD Hilberry, whose amazing graphite works I wanted to emulate. Our art teacher showed me how such contemporary work was rooted in the artists of the Realism movement of the 19th century, who sought to depict their subjects with an unvarnished truth and clarity. Later artists, such as 20th century realist Edward Hopper, continued in this tradition while emphasizing strongly defined lighting and mood. Hopper's work often has a sense of eerie stillness, a mood which I also tried to create by framing the lonely figure in the composition and by using strong value contrasts. In previous projects, imitations of pointillist technique modeled after Georges Seurat disciplined me to observe how carefully planned moves of shade and shadow can bring even greater realism to my work, regardless of the medium."
---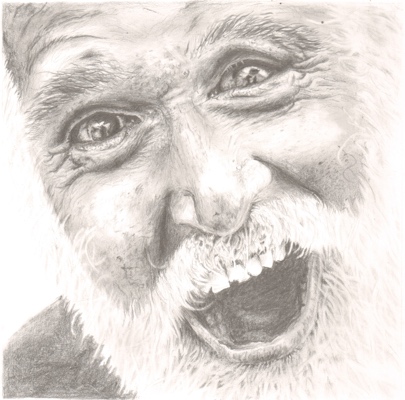 Drawing: Second Prize
"Happy"
Gresham Bergeron St. Stephen's Academy, Beaverton, OR "Artists are often drawn to styles and techniques employed by master artists in their previous work. The inspiration for my pencil drawing of an old man came from the work of Andrew Wyeth. Andrew Wyeth's works are mostly scenes of everyday life, especially of country and farm life. He also painted and drew many portraits of individual people. I especially admire his use of low lighting to bring out highlights in the subjects of his painting. His attention to detail is quite remarkable, and his portraits not only capture the features of the people being painted, but also their expressions at the time they were drawn. I tried to replicate this in my drawing, using the man's hard, glassy eyes and wide smile to show him in a moment of sudden happiness. Also, I believe some of Wyeth's attention to detail comes through in the wrinkles and individual hairs on the old man's face. Wyeth was a painstaking artist, and his work has influenced my own style."
---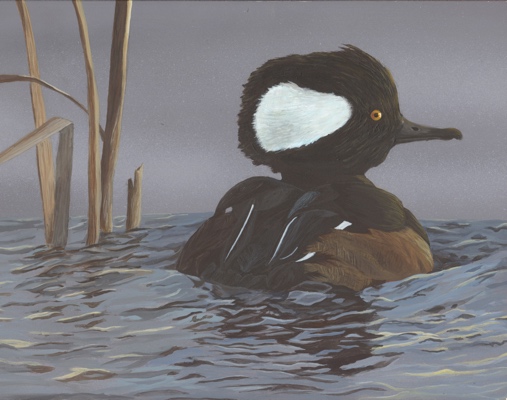 Painting: First Prize
"Swimming at Dawn"
Madison Mier St. Stephen's Academy, Beaverton, OR "This piece was influenced by the artist who created the designs for the federal duck stamp hunting license which began in 1934. While no particular artist influenced the style of this piece individually, it was intended that it would portray a moment in time, capturing waterfowl in its natural habitat, as if it were a photograph. Using a reference photo composed by Tim Bernard, a Northwest Wildlife photographer who gave me reference photos to use for this project, this acrylic painting works to establish a desire to conserve the creation God has provided for us."
---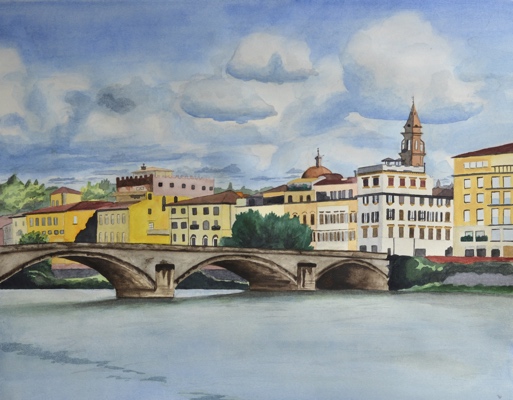 Painting: Second Prize
"Ponte Santa Trinita, Florence"
Jay Wallen Rockbridge Academy, Millersville, MD "After an amazing trip to Europe, I wanted to capture something of the mood and feel of some of my adventures, in the manner of the great American watercolor artist John Singer Sargent. I admire the way he used color and clarity to indicate the focal point of his pictures, although his style is much looser than my own. I used a more exact style of watercolor painting to communicate the beautiful structural detail of the buildings and the bridge while retaining a certain smooth and transparent feel overall. However, like Sargent, who painted beautiful scenes during his own European travels, I also wanted to capture something of the warmth and color of the light on the buildings of Florence, using a variety of my own photographs for reference."
---
Note: Each student must submit a written statement that identifies the artist(s) who have influenced their painting and how this is reflected in their own work.