Looking  for  a  startup  school  in  your  area?
Or maybe you're looking to start a classical Christian school yourself? Maybe you have started the process and want like-minded people to join you? Below you will see a list of individuals, families, and churches — organised by location— who are looking to start or have already taken the first steps towards starting schools. They are divided by region, which you can see on the map below. If you would like to be that brave initiator, see our Start a School page for help and click on the button below to fill out a form and have your name added to the list. Classical Christian schools usually have small beginnings. One person with a vision is all that's needed to start the process!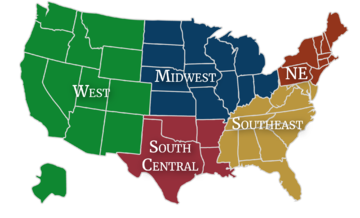 Coppell, TX
My name is Sophia Guerra-Metz. Many local parents like myself are looking for a 5-day classical Christian program for our children. If you are looking to join or start a school in the Coppell area, contact Sophia at sophia.guerra@me.com for more information.
Magnolia/Tomball, TX
We recently moved to Magnolia from Katy. In Katy we were heavily involved with a classical hybrid. As an educator with Katy Classical Academy, I attended Repairing the Ruins and am committed to educating my children classically. I also see a huge opportunity to pass on what I have learned about education in this area. Please email Leslie at lesliegesino@gmail.com if you are interested.
NLR/Sherwood area, AR
I am an RN, currently staying home with my three children (8, 4, 20mo). I am homeschooling my oldest though prefer a flexible/hybrid in-person option that aligns with CC values. I am motivated to team up with others who share these ideas. Please email Sarah at sarahkbland8@gmail.com if you are interested.
Bryant, AR
My husband and I are desiring to start a classical Christian school in Saline County, Arkansas. If you live in Saline County and are interested in being a part of a classical Christian school startup, please contact me at lindsayhefner@gmail.com.
Fayetteville, AR
My name is Caleb Martin. My wife and I are interested in starting a Classical Christian School in Fayetteville, AR. My wife has been teaching classically for the past 7 years and is currently pursuing a master's in classical education. I work locally for a Christian non-profit outreach ministry. We are looking for other like minded families who would like to discuss and pray about starting a school. Please email me at calebmartin@pm.me if you are interested.
East Providence, RI
Luke (dad, local pastor) and Sara (mom, educator) would like to start a hybrid classical school in Prov/EP. If you are interested in more information, please contact Luke at jlharding13@gmail.com.
Charlestown, RI
We are an enthusiastic and motivated husband and wife team desiring to bring the light of the gospel and the kingdom of God to southern RI through a stalwart classical Christian school. We are looking for other serious Christian families to join us in this journey. Come help us bring CCE to the Ocean State! Please contact Ryan Kilpatrick at rskilpatrick62@yahoo.com or 401-218-2657.
RI/ Southeastern MA Area, MA
Experienced Christian school educator seeks folks interested in starting a new Christian school in the RI/ Southeastern Mass. area. Please contact Dr. Thomas Roche at thomas.roche@yahoo.com or 508-212-1491.
Central Maine
My name is Jane Simpson and I am looking to start a classical Christian school in central Maine that would meet three days per week and emphasize theological rootedness in the Trinity, liturgical formation of learning habits, and the role of imagination in the perception of Truth, Beauty and Goodness. I have a vision for a school that provides both an academically excellent classical Christian education and serious vocational training in skills and work that make rural living possible, beautiful and enjoyable. Please write to janederreberrysimpson@gmail.com or call 207-938-3215 if you are interested.
Grande Prairie, Alberta, Canada
A group of parents are planning to start a classical Christian school in Grande Prairie, Alberta, opening September 2021. We would love to hear from other parents in the area who are interested in becoming involved. Please contact Alex Barendregt at alex@teleoinc.com if interested.
Mississauga, Milton and Brampton area, Ontario, Canada
My name is Heather Geertsma and my husband and I have two young children. As we have explored education options for our children, we have become convinced that classical Christian is the richest and most Christ-centered pedagogy for educating our children. We hope to start a classical Christian school in the Milton, Mississauga, and Brampton area. We would like to connect with other families in the area to form a group to explore starting such a school. Please feel free to reach out to me at hgeertsma@gmail.com if interested.
Peterborough, Ontario, Canada
My name is Rebecca Kloosterman and I am a qualified elementary teacher and a Pastor's wife. A small group of families in our church are exploring the possibility of starting a Classical Christian School, and would love to connect with any other like-minded parents/educators in the city of Peterborough. If interested, please email rlkloosterman@gmail.com.
Cusco, Peru
A team of evangelical reformed missionaries in Cusco, Peru looking to start a classical Christian school to support the growth of the gospel in our city. We're looking specifically for God to call a headmaster to join our missionary team and help launch an international school here for both missionary children as well as nationals. Email me at laura.dougherty7@gmail.com.
Angus-Fife Area, Scotland
My name is Dave Dickson and I am an assistant pastor at Lochee Baptist Chapel, Dundee, Scotland. My wife and I have three boys of school age and we are looking to gather with other families to start a Classical Christian School in the Angus and Fife area. I believe this will be the first in Europe and would be excited if this is the first of many! For more info please contact me at info@locheebaptistchapel.com.