Logic Mathematics & Logic (5-7th grade)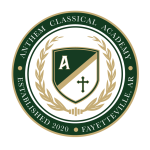 Website Anthem Classical Academy
Cultivating Christ-centered leaders
438 Vandeventer Ave,
Fayetteville,
Arkansas
72701
Position Description
We are looking for an individual who is interested in teaching upper elementary and logic school math. We use the Singapore Math Dimensions curriculum. For more information regarding this approach, please visit https://www.singaporemath.com. We are always looking for people who can teach students and help enrich their love of beauty and virtue. Those interested in applying should be devoted followers of Christ, have a commitment to continuing their own education, and have a desire to shepherd the next generation in ordering their affections to that which is true, good, and beautiful. We are a private classical Christian school in Fayetteville, AR that distinguishes itself by offering a classical perspective centered around a biblical worldview. For the 2023-2024 school year, we will offer grades K-7. We will add grade levels yearly until we expand to K-12. If you are interested in this teaching position, then please apply here.