Upper Grammar School Teacher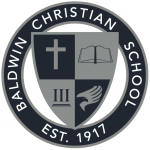 Website Baldwin Christian School
896 Hwy 63,
Baldwin,
Wisconsin
54002
Position Description
Baldwin Christian School
Employment Position Posting
Position:  Grammar School Teacher (5-6th grade)
Description: The purpose, mission, and goal of the Baldwin Christian School is to classically educate students to dedicate their lives to God in order to serve their neighbor, country and world for the sake of Christ.  A BCS teacher supports and pursues that calling by discipling the minds, hearts, and hands of students. In providing a classical education founded upon a biblical worldview, the teacher has the opportunity to train and equip the student in the good, the true, and the beautiful so that they may be able to know and carry out God's specific calling on their lives for love of God and mankind.
Reports to:  Headmaster
Salary:  As set by the Board
Requirements:
Candidate affirms that, as part of the qualifications for this position, he or she is a "born again" Christian who knows the Lord Jesus Christ as Savior.  (I John 3:3; I Peter 1:23).
Candidate gives testimony that he or she has a sense of God's will, and that working in a classical Christian school is God's direction for him or her.
Candidate accepts without verbal or mental reservations both the BCS Statement of Faith and the  Educational Philosophy of BCS, and is committed to upholding them.
Candidate will faithfully attend and support a local church whose fundamental beliefs are in agreement with the BCS Statement of Faith.
Candidate accepts without verbal or mental reservations all applicable policies outlined in the BCS Staff and Faculty Handbook and BCS Policy Manual.
Application:  May be obtained by emailing [email protected]
Deadline:  July 31, 2020 (or until filled)
Email cover letter, resume and testimony of faith to the above email address, or mail to:
Eric Purdy, Headmaster
896 Hwy 63
Baldwin, WI  54002