Upper School Math and Logic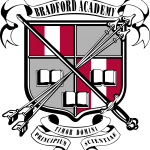 Website Bradford Academy
Bradford Academy 939 S Third Street Ext,
MEBANE,
North Carolina
27302
Position Description
In search of a full time UPPER SCHOOL MATH and LOGIC teacher.
Specifically:
Middle School Logic
Geometry
Algebra 2
Bradford Academy is a growing classical and Christian school located in Mebane, NC.
The school is an hour from metropolitan Raleigh, Durham, Chapel Hill area and only a few hours from the mountains to the west and few hours to the beach.  Central NC is a great place to live with several strong churches nearby.  We serve families with students in transitional kindergarten through 12th grades and have grown to over two hundred and fifty students.  We are confessionally in the historic protestant tradition and desire energetic and creative Christian scholars to lead our students into a deeper understanding of truth, virtue, and beauty. Ideal candidates will have a proven track record of a genuine commitment to Christ and His church and a love for sharing His word with children.
If you are interested in teaching middle and high school students, please forward your resume and cover letter to our headmaster, Jeff Johnston, at [email protected]
For more information, feel free to call the school at 919-563-9001 or visit our website BradfordAcademy.org