Headmaster of Byne Christian School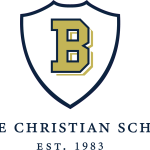 Website Byne Christian School
Position Description
BYNE CHURCH
Albany, Georgia
JOB DESCRIPTION
Headmaster of Byne Christian School
IDEAL CANDIDATE:
·      Will have a demonstrable love of God with a track history of faithfulness.
·      Will have a heart for local church ministry with Christian education as an extension of the church for wider kingdom impact.
·      Will have a vision for a robust school culture that encourages learning, community, and missional impact.
·      Will have strong leadership skills and administrative abilities.
·      Will have experience in a classical Christian school.
PRINCIPLE FUNCTION:  To lead and direct the daily operation of Byne Christian School to fulfill the mission of the school.
MISSION OF BYNE CHRISTIAN SCHOOL: To partner with parents & support local churches to educate, inspire, & equip a generation to know, love, & live for Jesus.
ESSENTIAL DUTIES:  The Headmaster of Byne Christian School shall be responsible for the management, supervision, efficient administration, and leadership of day-to-day operations of Byne Christian School.  The Headmaster shall provide leadership in the planning, conducting, and evaluation of all phases of the School's administration including its operation, its personnel, and in the implementation of plans, goals, programs, and policies which support the vision of Byne Church.  The Headmaster shall be familiar with the Policies and Procedures of the Church and shall ensure that all decisions and programs are made within the guidelines of the Church's Constitution and By-Laws.
MINIMUM REQUIREMENTS:  The Headmaster of Byne Christian School must be a Christian with a heart for ministry and concern for and love of families. The Headmaster must believe and be actively involved in a church that believes in biblical inerrancy and is in agreement with the SBC Baptist Faith and Message as adopted in 2000.  The Headmaster must also agree and support Byne Church's Vision and Mission Statements.  A master's degree, preferably in Christian Education, is required. At least five (5) years' experience in education leadership and certification as a Christian School Administrator are preferred. Experience in a classical Christian School is strongly preferred.  The Headmaster must have and use strong leadership skills, excellent interpersonal skills, and exceptional decision-making skills.  The Headmaster must be a person with a reputation of high integrity and character who seeks, through prayer, the will of the LORD on a continual basis, and who displays a high standard of Christian ethics, values, and a Christ-like attitude toward all individuals.  The Headmaster must possess the ability to communicate, spoken and written, in a firm, but loving, caring, and compassionate spirit with students, the School Board, and all School and Church staff.
PHYSICAL REQUIREMENTS:  Requires sedentary work that involves walking or standing some of the time, and, from time to time, may require exerting up to 40 pounds of force. Accommodations may be possible for persons with physical needs.
STAFF RELATIONSHIP:  The Headmaster of Byne Christian School shall be responsible to and supervised by the school board and Church Administrative Officer (senior pastor).
SPECIFIC DUTIES:
I.   COORDINATION OF THE TOTAL SCHOOL PROGRAM
A.  Prepare and maintain an effective School calendar to coordinate with other ministries of the Church.
B.  Plan and administer faculty and staff orientation, and meet regularly with School personnel and with the School Board.
C.  Be responsible for the entire school organization.
II.  PROCUREMENT AND SUPERVISION OF PERSONNEL
A.  Recruit, interview, hire and dismiss all teaching and school administrative staff.
B.  Supervise all school administrative, academic, and non-instructional personnel.  Conduct annual performance review of all school staff.
C.  Monitor the certification and licensure status of the teachers.
D.  Ensure the proper and efficient operations of the school office.
III.  ACADEMIC LEADERSHIP
A.  Ensure that curriculum satisfies current education expectations (accreditation standards, standardized testing, etc.). Lead the administration and staff in using student assessment data to determine learning successes and areas of needed improvement for academic achievement.
B.  Maintain all certifications and keep abreast of any developments in classical Christian Education through continuing education.
C.  Evaluate teacher needs and plan conferences, in-service training, and encourage graduate studies as needed.
D.  Know accrediting associations and college entrance requirements and incorporate into curriculum.
E.  Further develop and refine classical curriculum and classical training for teachers.
F. Ensure that the school is in compliance with all applicable laws.
IV.  BUDGET FORMULATION
A.  Work with the Church Administrative Officer in preparing the school's annual budget.  Budget approval shall be given by the School Board, followed by the Stewardship Team.
B.  Approve and manage income and expenditures within the school's budget.  Adhere to purchasing policies.
C.  Regularly report to the School Board, Stewardship Team, and the Church on the status of the school.
V.  SCHOOL POLICIES
A. Responsible for the development and management of all School policies, including but not limited to enrollment and admissions, schedule of charges, payment policies, personnel, and curriculum. This action requires consultation with the Church Administrative Officer and approval of the School Board.
VI.  FACILITIES AND SUPPLIES
A.  Ensure that there is an environment conducive for good learning, including suitable furniture and equipment, to support classroom needs in providing quality education.
B.  Maintain an adequate inventory of all necessary supplies for administrative and classroom use.
C.  Cooperate with the Maintenance Department through its Director of Facilities concerning all cleaning and maintenance needs.
VII.  PUBLIC RELATIONS
A.  Provide vision and direction consistent with the school's mission and purpose.  Work closely with the School Board and staff members in planning and carrying out an effective marketing program to maximize community awareness.
B. Plan Parent-Teacher meetings to ensure that the needs of the school family are being met. Ensure that all school staff (teachers and administrative staff) communicates with parents consistently and promptly.
C. Develop School and community relationships.  Maintain excellent student, teacher, parent, and church relationships.
VIII.  CHURCH RELATIONS
A.  Responsible for maintaining the very highest relationships with the total Church.  This includes communicating to the Church on a regular basis any information concerning what is happening in the school program.  It also includes encouraging the teachers and working with the teachers as they relate to those Church workers in the various program organizations using common equipment and materials.  The Headmaster shall work toward the sharing of equipment where possible with the Church program organizations.
B. Coordinate Chapel programs that are relevant to student and staff needs.
C.  Provide Christ-centered counseling with students and staff as needed.
IX.  STUDENT ENROLLMENT AND PARENT INDOCTRINATION
A.  Responsible for student recruitment, retention, acceptance, discipline, and expulsion as deemed necessary.
B.  Responsible for parental indoctrination of school vision, goals, and purpose.
X.  OTHER DUTIES
A. Perform other duties as assigned by the Church Administrative Officer.