Language Arts English Teacher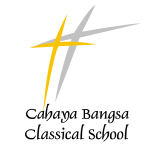 Website Cahaya Bangsa Classical School
Jl. Bujangga Manik Kav 1, Kota Baru Parahyangan, Padalarang,
West Bandung, West Java, Indonesia, Southeast Asia,
40553
Position Description
Cahaya Bangsa Classical School (CBCS) is a PreSchool through Grade 12 classical Christian school located on the outskirts of Bandung in the beautiful, mountainous region of West Java, Indonesia. CBCS is a single campus consisting of four school divisions, Early Childhood (PS-K), Grammar School (G1-G6), School of Logic (G7-G9) and School of Rhetoric (G10-G12), which serves 800+ primarily Indonesian students. As such, CBCS is a dual language school with 80% of instruction conducted in English using curricula imported from America and required national courses conducted in Indonesian. CBCS is a private, dual accredited school with the Association of Christian Schools International (ACSI) and the Accrediting Commision of Schools, Western Association of Schools and Colleges (ACS WASC).
CBCS boasts a strong reputation in the Greater Bandung area with a distinctive identity and approach to education based on the 2,500-year-old tradition rooted in Western culture, civilization, and the historic Christian faith. We believe classical, Christian education, implemented with effective pedagogy by loving teachers, is the best method for equipping students for an ever-changing world and a future not yet imagined.
Currently, we are looking to hire an English Language Arts teacher for the School of Logic (Grades 7-9) / School of Rhetoric (Grades 10-12) (placement will be announced after the final stage of recruitment). If you are a mature Christian with a sense of adventure, a passion for inspiring students to become life-long learners through classical education, and a desire to share the gospel and equip the next generation with a dynamic faith, you may be a great fit for our faculty!