First Grade Grammar School Teacher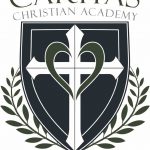 Website Caritas Christian Classical Academy
Caritas numquam excidet - Love never fails
P.O. Box 1317,
Chandler,
Arizona
85244
Position Description
Caritas Christian Classical Academy is a hybrid classical Christian school serving students from K-6. For the 2022-2023 school year, Caritas will be adding 7-8 grades for full five day Classical instruction.
We offer a balanced, rigorous, and Christ-centered classical education. Parents and teachers work together to educate students through the hybrid method which combines aspects of a traditional school with homeschooling. K-6 students are on campus three days per week and at home the remaining two days.
We are seeking a First Grade Grammar School teacher for the 2022-2023 school year. All employees must agree to and support the school's Statement of Faith and have a strong commitment to and passion for Christian education and the Classical model of education.
We seek the following qualifications for our Grammar School teachers:
A strong Christian testimony.
A love of children.
A personal love of learning and a humble and teachable spirit.
Applicants must hold a Bachelor's degree.
Applicants must have a gift for teaching.
Our teachers must be committed Protestant Christians with a living faith in Jesus Christ.