Art Teacher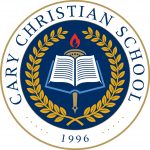 Website Cary Christian School
Position Description
The Art Teacher will be responsible for developing in 3rd-12th grade students an interest in and the ability for creative expression using skills and techniques of artistic expression consistent with school biblical guidelines, and to discover and develop talents of students in the field of art.
Qualified candidates will possess a degree in Art and/or have minimum of two-years work experience as an Art Teacher.
Solid knowledge of art elements in design principles
Ability to demonstrate techniques and fundamentals in drawing, painting, sculpture, and photography.
Provide individual and small group instruction, adapting the curriculum to the needs of students with varying artistic abilities.
Experience with planning and presenting art displays/exhibits
Ideal candidates for employment must embrace the school's mission, philosophy, and statement of faith.
Please send resume and cover letter to:  [email protected]   Cover letters should include what draws you to apply at Cary Christian School, how your faith impacts your daily life, and how your education and past experience could be utilized at our school.