Latin Teacher - Grammar School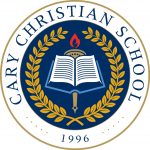 Website Cary Christian School
Position Description
Cary Christian School, a K-12 Classical Christian school located in Cary, NC, is seeking a dynamic Latin teacher for its upcoming 22/23 school year.
Qualified candidates will possess a bachelor's or master's degree in Latin, classical languages or foreign language education with a Latin specialization.  Teaching experience is preferred.
Candidates should have a passion for Latin and be able to share the excitement of how the language boosts logical thinking and development
Desire and ability to learn and teach based on the classical education methodology based on a Biblical worldview
Ideal candidates for employment must embrace the school's mission, philosophy, and statement of faith.
Please send resume and cover letter to:  [email protected]   Cover letters should include what draws you to apply at Cary Christian School, how your faith impacts your daily life, and how your education and past experience could be utilized at our school.