Theology & Logic Teacher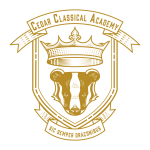 Website Cedar Classical Academy
Joy & Grit
Position Description
Cedar Classical Academy seeks a full-time Upper School Theology & Logic Teacher. Cedar Classical Academy opened in 2019 with grades K-6 and is adding one grade each year to grow to K-12. The Teacher will join Cedar's three other Upper School faculty members to cultivate students' intellectual and moral virtue in 7th, 8th, 9th, and 10th grade. The Teacher reports to the Head of School.
This position includes instruction in theology, logic, Latin, and mathematics. The Teacher may teach other Logic School classes as may be directed by the Head of School. The Teacher will work closely with other Upper School faculty members to enforce a cohesive discipline system across all classes, including enforcement of the uniform policy and homework policy. The Teacher will work closely with other Upper School faculty members to enforce cohesive academic standards, including writing standards. The Teacher will instruct students with a view toward equipping them for adulthood. The Teacher will model love of the content and tenacity in the face of difficulty. The Teacher will represent and vigorously enforce the Academy's code of conduct. The Teacher will attend all staff meetings. The Teacher will enthusiastically attend all required school events outside of normal school hours.
In addition to these specific duties, it is expected that the Teacher will model the Christian faith to students and as a representative of the school's mission. The Teacher is expected to address poor behavior in their students when it is observed in or out of class, and to regularly incorporate Christian themes in their classes and in conversation with parents, staff, and students, such as the Gospel, forgiveness, virtue, and redemption. The Teacher is expected to pray with and for students on a regular basis.
This position is a full-time, salaried position with a start date of July 1. Prior to the start date, the Teacher will attend the ACCS Conference June 22-24 in Pittsburgh, PA with the rest of the staff. Teacher training is provided on campus during the second week of August. Teacher mentorship from the Head of School will be provided throughout the year.
The Teacher will have a bachelor's degree and prior teaching experience.
The Teacher shall be a born-again believer and a member in good standing of a local church. Applicants should carefully review our Mission Statement, Vision Statement, and Statement of Faith. Download the application here and send it to [email protected] We require background checks and fingerprints for all employees and volunteers.