Dean of Students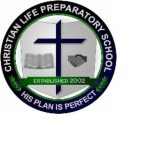 Website Christian Life Preparatory School
5253 Altamesa Blvd.,
Ft. Worth,
Texas
76123
Position Description
Christian Life Preparatory School is a collaborative, classical Christian school serving 365 students in grades K-12.
Our purpose is to partner with parents who want to spend time with their children and see them grow up to be amazing disciples of Jesus. Our academic program aligns with the vision of the school using classical methods of instruction with the goal of nurturing students who pursue Christ-centered relationships all the while becoming effective communicators and critical thinkers who are grounded in Jesus the Truth. Our classes can be characterized as active/dynamic learning/formation environments.
As a collaborative school, students in grades K-5 attend classes 2 days a week at the main campus with a MW or TTH schedule. The other 3 days of the week, they are at home completing instructor prepared assignments in the satellite classroom under the supervision of one of their parents. Students in grades 6-12 attend classes 3 days a week, MWF, and are at home in the satellite classroom the other 2 days.
Christian Life Preparatory School (CLPS) is seeking a pastorally minded, relationally-experienced leader for the position of Dean of Students at its K-12 Fort Worth campus. At CLPS, the Dean of Students is a key member of the Administrative team, partnering with the Head of School, Principal, Dean of Academics and Athletic Director to fulfill the school's mission of partnering with like-minded parents to form their children – heart, soul, mind, and body as defined in the school's Profile of a Graduate.
The Dean of Students is the primary accountability leader for students and is responsible for non-academic, student-related matters and school sponsored activities both on and off campus.  The Dean of Students will work collaboratively and in full partnership with the teachers, coaches and parents in the school to provide opportunities, accountability, and age level appropriate challenges to the students as they grow in the Christ centered relationships which form the core of a flourishing Christian life.
Duties and Responsibilities
Mission and Leadership
Embrace the vision, mission, education philosophy, and culture of the school as well as the school vision set forth by the Head of School
Demonstrate alignment with the school's core purpose, values, and objectives
Lead the school when the Head of School is absent
Demonstrate visible, active leadership in the daily life of the school, including during the daily routines of arrival, dismissal, lunch, and break times as well as at school functions and events that occur beyond the school day
Work collaboratively as a part of the administrative team to support students, parents, and faculty
School Community
Create engaging processes and make informed decisions based on community input
Provide strategic direction, implementation, and communication about all facets of student life programming
Lead the Administrative team in regular reviews and appropriate updates of the Parent/Student handbook
Oversee the planning and implementation of student leadership training throughout the academic year
Initiate and lead formative student life programming in partnership with the administrative team and faculty
Working with Faculty and Staff
Establish and support engaging, supportive and respectful relationships with faculty and staff
Work closely and communicate regularly with the athletic director, school office manager, director of security, and facilities personnel as well as various church personnel
Facilitate regular communication between students and faculty by providing important feedback to staff about the student experience and mediating conversations between students and staff
Serve as a point person along with the learning specialist, and the Head of School in supporting students facing significant challenges
Collaborate with the Head of School and Principal in leading new student onboarding and planning any new student events and programming throughout the school year
Working with Students
Build grade-level appropriate relationships with all students
Create and oversee student programming, including middle and upper school retreats, activities, and student leadership opportunities
Oversee the student experience and foster a school climate that enhances community and student growth
Be present and visible in the school community by frequently connecting with students in common areas, lunch times, co-curricular spaces, hallways, and other spaces students gather
Nurture and develop student leaders
Coordinate selection and election of student leaders
Co-lead the senior class leadership team
Provide proactive and responsive one-on-one and group-based student support
Foster a caring, positive, inclusive, safe and joyful school culture
Encourage student enthusiasm for, and sense of community in the school by generating student support for school activities
Discipline and Attendance
Enact and continually improve a thoughtful and thorough student discipline program
Support and communicate the community expectations including the code of conduct, honor code, and major school rules
Regularly and clearly communicate school disciplinary procedures and policies and the benefits to staff, teachers, students, families, and the school community
Help to create academic, behavioral, and social communal norms in the school and educate students both formally and informally about these norms
Lead the disciplinary process including regular review of the community standards by discussing violations of norms with students, planning interventions for students and the community, and leading conflict resolutions and relational restoration
Implement disciplinary interventions including suspensions, expulsions and actions for relational restoration
Mediate and resolve discipline and relational conflict issues
Consult with the Head of School for significant discipline action and conduct issues
Coordinate discipline meetings with students and families involved
Manage and communicate daily student attendance to Head of School
Other Duties or Responsibilities
In partnership with Head of School and admissions department, develop and participate in family programming, including New Family Information meetings and new student visitation days
Teach at least one course—either a full-year class or an elective offering.
Represent the school frequently at school events, some that may extend beyond the regular school day
Common Qualification Requirements
Must be a professing Christian with a daily practice of service and devotion
Must be an active member of a local Christian church
A bachelor's degree from an accredited college or university in education or related field required
Preferred experience as a teacher or educational administrator
Preferred experience in a similar role in a high school setting
Preferred experience as an associate or assistant dean
Experience in working collaboratively in educational leadership
Experience in supervising and managing multiple programs
Sample Skill Requirements
Demonstrate the qualities of compassion, empathy, and openness, while utilizing excellent active listening and communication skills
Commitment to collaboration with students, parents, staff and faculty
Possess a proper sense of perspective and a sense of humor
Ability to build an inclusive community that is practiced by the students
Timeliness and follow-through in terms of action/steps across multiple projects
Regularly express a joyful and enthusiastic attitude
Excellent planning and time management skills with an emphasis on organizational and collaborative skills with the ability to properly prioritize
Ability to effectively manage a team and work well independently
Demonstrate integrity and flexibility while nurturing a dynamic student community
Ability to balance the needs of multiple constituencies
Warm and friendly, yet also firm with student accountability for school rules
Positive attitude, flexible approach, and a demonstrated desire to learn
Excellent oral and written communication skills, and experience with public speaking
Effective facilitator in large groups, small group and in one-on-one situations
Maintain high professional standards for personal appearance, integrity, tactfulness, discretion, fairness, and confidentiality
Culturally aware
Growth-minded and committed to professional development
Team player with the ability to seek input from appropriate sources to inform decision-making
Understand, follow and fully support the visionary leadership of the Head of School demonstrating confidence in the development of a fully functional, formation minded, collaborative school
Current Activities/Systems/Student Programs at CLPS
Student House System for Grades 6-12

House Leadership Structure – Students and Faculty Advisers
Annual House Officer training
Back to School – New student induction ceremony
Back to school party and cookout
Monthly House Battles
Monthly House Officer meetings
House faculty adviser meetings
Annual House led student retreat
House led spirit week and Homecoming celebration
Individual House Events
Weekly House Bible studies
House parties
Community Service projects
Annual student award ceremonies

New Task – Create separate House system for grade 6-8
Clear procedures for handling student uniform violations and excessive tardies and absences
Parent/Student Training week for new school year
Senior Class leadership team and school service activities
Parent support seminars/Guest speakers
Various community service opportunities with existing local initiatives
End of year awards – Knight Award, Highest GPA, Service Distinction for seniors
Morning Assemblies – Lower, Middle and Upper school events
Daily lunchroom monitor – Lower, Middle and Upper school
Grades K-5 Character Development
Monthly Character traits curriculum
Monthly character celebration at extended lunch
Annual Student mission trip 1st week of summer break
Student team travels overseas to partner with selected mission outreach
Support additional mission trip for Spanish class to Spain
Prepare Knightly News – Weekly school wide newsletter
Sample Requested Documents
Cover letter indicating the candidate's particular interest, qualifications, experience, and how they are a fit for this position
Current resume or CV
Essay about the candidate's Christian experience
Essay describing the candidate's personal educational philosophy
Personal statement about the candidate's leadership philosophy and style
3-5 references
CLPS employee application