1st/2nd Grade Teacher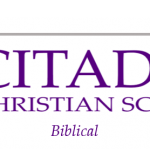 Website Citadel Christian School
2111 South Blue Bell Rd.,
Brenham,
Texas
77833
Position Description
GENERAL DESCRIPTION: All Citadel Christian teachers are to prayerfully help students learn subject matter, skills, and attitudes that will contribute to their development as mature, able, and responsible Christian men and women to the praise and glory of God.
QUALIFICATIONS:  The teacher shall be one who has received Jesus Christ as Savior and Lord.  The teacher shall be a member in good standing of an evangelical church and shall lead a mature Christian life.  He or she shall be a person with spiritual, academic and leadership abilities, exceptional classroom managements skills, and good communication skills.  The teacher shall reflect the purpose of the school to honor Christ in every class and in every activity.
The teacher shall be a college graduate who feels called of God to the teaching profession.