Logic/Rhetoric Math Teacher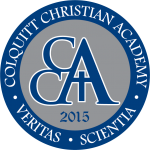 Website Colquitt Christian Academy
Math Teacher
105 Silverwood Court,
Moultrie,
Georgia
31768
Position Description
Colquitt Christian Academy seeks a 7th-12th grade math teacher. The teacher must be a believer, have a bachelor's degree, experience teaching math and/or college credits in math, and is willing to learn classical methodology if no experience in this model of education.
CCA is finishing Year 7 and is growing! We strive to employ mature, experienced educators but are willing to train. We are currently Candidates for Accreditation with the ACCS, as well as have state accreditation through GAC.