Teacher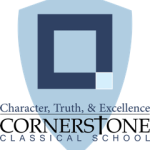 Website Cornerstone Classical School
Character, Truth & Excellence
830 S. 9th St.,
Salina,
Kansas
67401
Position Description
Cornerstone Classical School in Salina, Kansas is seeking teachers who value learning as a lifelong pursuit, wish to share their Christian faith within the context of a rich classroom environment, and are committed to fulfilling our mission of cultivating character, truth and excellence in our students.
We are Orthodox, Protestant, Evangelical classical school.
Please apply by sending your resume and cover letter to: [email protected] or mail to 830 S. 9th St, Salina, KS 67401.
Cornerstone Classical School does not discriminate in its employment practices against any person because of race, color, gender, age, qualified disability, or national or ethnic origin.