Grammar School Teacher (1st-5th grade)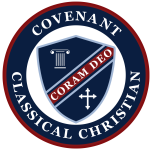 Website Covenant Classical Christian School
Disciples, Scholars, & Citizens
6515 North Trenholm Road,
Columbia,
South Carolina
29206
Position Description
Covenant Classical Christian School in Columbia, SC has two teaching positions in the Grammar School for 1st & 5th Grades. Teaching candidates should love God, love children, and love learning. Candidates will need to be able to acquire a pastor recommendation of active participation in a local church and sign the school's Statement of Faith. Professional development in classical Christian education provided.