Secondary Dean of Academics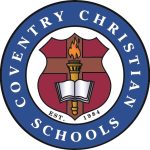 Website Coventry Christian Schools
Ut Vitam Habeant
699 N PLEASANTVIEW RD,
Sanatoga,
Pennsylvania
19464
Position Description
Founded in 1984 Coventry Christian Schools (CCS) has grown from a small preschool to a thriving school with students in Preschool through Twelfth grade. CCS operates on a campus of 13.2 acres with more than 75,000 square feet of instructional space, and borders a 28 acre township park. The school has experienced tremendous growth over the past few years with enrollment growing more than 60% since 2019. In order to continue to deliver excellence to our students and families, the school is expanding the school's secondary administrative staff and splitting the existing Secondary Dean role into a Secondary Dean of Academics and a Secondary Dean of Students role. Coventry seeks a God-fearing, experienced, innovative, and motivated educator to help lead the Secondary School beginning in the summer of 2023.