Kindergarten Teacher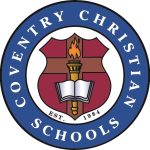 Website Coventry Christian Schools
Ut Vitam Habeant
699 N Pleasantview Road,
Sanatoga,
Pennsylvania
19464
Position Description
Kindergarten Teacher; August 2023 Start Date, Full Time Position
Coventry Christian School is seeking a Kindergarten Teacher for the 2023-2024 school year. Full time teaching applicants for the Grammar School will qualify for grade level teaching roles based on their ability to demonstrate through their interview, application and sample lesson the ability to teach students at the grade levels or subject matter needed. Preference will be given to previous experience, pedagogical underpinnings, the understanding and practice of teaching in a Christian and Classical setting, as well as a sense of dynamic and engaging presentation driven by a passion for learning.
Job requirements include, but are not limited to, the following:
Ability to sign and affirm the school's statement of faith
Active membership in a Bible-believing Christian Church
Experience in teaching elementary aged children
Degree in elementary education or related field preferred
Interested applicants should send both cover letter and resume to Mrs. Jill Barton, Grammar School Dean, at [email protected]