Latin Teacher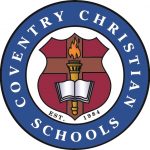 Website Coventry Christian Schools
Ut Vitam Habeant
699 N PLEASANTVIEW RD,
POTTSTOWN,
Pennsylvania
19464
Position Description
Coventry Christian Schools is seeking a Latin Instructor for the 2022-2023 school year.  This position is a full-time teaching position for the academic year.  Coventry students begin their study of Latin in Grade 3 (Two days per week) and currently conclude their study of Latin in the 8th grade (Four days per week).  Coventry uses Latin for Children A and B as well as the Ecce Romani curriculums.