High School Mathematics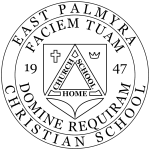 Website East Palmyra Christian School
2023 E Palmyra Port Gibson Rd,
Palmyra NY,
New York
14522
Position Description
Primarily a High School Mathematics teacher in a 76-year-old school in the heart of the beautiful Fingerlakes Region of New York State. Opportunities arise for diversity of content instruction if that is also desired. Opportunities to advance into leadership roles.
East Palmyra Christian School is a Covenential, Classical, and thoroughly Christian School undergoing tremendous growth. Alumni relocate or remain to send their children to our school in the middle of the Burned Out District. Experiencing a Reformation driven by the Holy Spirit through solid teaching in the pulpits of the supporting Dutch-Reformed and Baptist Reformed Churches, we seek a partnership with a teacher and their family who aligns with our mission: To offer a Christian Education that integrates faith and learning through a Biblical worldview. We strive to equip our students to develop their gifts, to become discerning disciples of Christ, and to joyfully serve God in the way God calls them to live in their community and world.
Salary and benefits are negotiable as is support for relocation.