Latin Teacher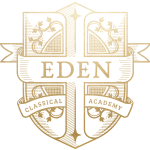 Website Eden Classical Academy
Position Description
https://doxachurch.bamboohr.com/careers/60
Reports to: Grammar teachers (TK, K-6) report to the Grammar Lead; Logic (7-9) and Rhetoric (currently 10th) report to the Logic Lead.
2023-24 Academic Year Needs: Latin teacher (2nd-6th), 1st grade homeroom teacher (History, Language Arts, Science), Transitional Kindergarten & Young Learners homeroom teacher(s) (2-day program), Biology teacher (8-10th), Great Books & Composition teacher (8th-10th).
Status: Part-Time
Hours: Range based on difficulty of class and # of classes taught
Work Calendar: Aug 7-Aug 18 (Professional Development) // Aug 21 – May 23 with unpaid breaks at Thanksgiving, Christmas, Winter Break, and Easter Break; 33-week school year
Qualifications
1. Faith & Spiritual Leadership: Have a clear testimony of faith in Jesus Christ and a passionate, growing, personal relationship with Him. Demonstrated commitment to integrating faith and learning, fostering spiritual growth, & promoting a Christ-centered culture within the community.
2. Church Membership: Be a member of a local church body closely aligned with the doctrine & mission of Doxa Church. Wholeheartedly embrace Doxa's Statement of Faith and Statement on Marriage, Gender, and Sexuality.
3. Experience: Minimum of 2 years of teaching experience (preferred), ideally in a classical Christian school or similar educational setting.
Education, & Knowledge: Bachelor's degree in a relevant field (preferred); knowledge & understanding of classical Christian education principles, philosophy, & pedagogy is desirable.
4. Classroom Management: Proven ability to manage a classroom effectively, establish clear expectations, and create a positive and disciplined learning environment.
5. Communication Skills: Excellent verbal and written communication skills, with the ability to engage and connect with students, parents, and colleagues effectively.
6. Creativity: Ability to develop and implement engaging lesson plans and instructional strategies that cater to different learning styles and abilities.
7. Collaboration: A collaborative mindset and the ability to work effectively as part of a team, collaborating with fellow teachers, administrators, & parents.
8. Patience and Adaptability: Demonstrated patience, adaptability, and the ability to differentiate instruction to meet the various student needs.
Essential Roles and Responsibilities:
1. Character Development: Instill Christian virtues and character development through intentional instruction and modeling of Christ-likeness in thought, word, and action.
2. Curriculum Delivery: Implement the grammar/logic/rhetoric program curriculum, incorporating classical Christian principles, to foster a strong foundation in the trivium and quadrivium.
3. Lesson Planning: Develop and implement engaging lesson plans that align with curriculum objectives and cater to the individual learning needs of students.
4. Classroom Instruction: Provide effective and engaging classroom instruction, leveraging The Seven Laws of Teaching (Gregory: Teacher, Lesson, Learner, Language, Teaching Process, Learning Process, Review) to facilitate learning, understanding, and mastery in students.
5. Classroom Management: Establish a positive & disciplined classroom environment, managing student behavior and creating a culture of respect, responsibility, and active participation.
Student Assessment: Regularly assess student progress (demonstrated evidence of learning) and provide timely and constructive feedback to students and parents, ensuring ongoing academic growth.
6. Parent Communication: Maintain regular communication with parents, providing updates on student progress, addressing concerns, and fostering a collaborative relationship between home and school.
7. Collaborative Engagement: Collaborate with fellow teachers, attending meetings, participating in professional learning communities, and contributing to the overall development of the school's educational programs.
8. Professional Development: Engage in continuous professional growth and development and lifelong learning to include books, podcasts, conferences, workshops, and training sessions related to educational leadership and classical Christian education.
Note: This position description is intended to provide a general overview of the responsibilities and qualifications of a teacher at Eden Classical Academy. It may be subject to change or modification based on the school's specific needs and requirements.