Head of School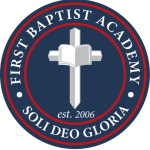 Website First Baptist Academy
First Baptist Church of Powell 7706 Ewing Road,
Powell,
Tennessee
37849
Position Description
SUMMARY:
The Head of School serves as the leader of our First Baptist Academy community. Candidates should be able to demonstrate strong leadership and communication skills, spiritual maturity and accessibility while being a strategic vision caster able to build strong relationships. This position must be able to collaborate effectively with other academic leadership members and serve under the direction of the School Board to accomplish the goals of the school. As a Classical Christian academy, we are seeking a candidate who has experience in a classical Christian education setting.
MINIMUM QUALIFICATIONS:
A strong, clear testimony of acceptance of Jesus Christ as their Savior and Lord
Demonstrated spiritual maturity as evidenced by service within a church body
Unreserved agreement with the First Baptist Powell Statement of Faith: https://fbcpowell.org/beliefs/
Willingness to become a member and serve at First Baptist Powell
Strong knowledge and understanding of Scripture
Experience in a classical Christian education setting required
Training and personal development in classical Christian education
Bachelor's Degree in Education, Educational Administration/Leadership, or other educational discipline; Seminary degrees accepted with prior administration experience.
Must hold or be able to qualify for an ACSI or ACCS certificate for Head of School or Executive Director
Strong communication skills – verbal, written, presentation
A pattern of providing accessible, supportive leadership including a relational and interactive approach to development of people and organizations
Ability to cast and communicate vision; seen as a visionary leader with experience in leading through change
Evidence of a passion for learning and creating an environment that encourages the creation of life long learners
PREFERRED QUALIFICATIONS:
Three to five years of administrative experience in a classical Christian education setting
Prior head of school experience
Master's Degree in Education, educational administration/leadership, or other educational discipline preferably from a classical Christian institution
Experience with school accreditation process, preferably with ACCS
Proven success in fundraising and budgetary management
Experience with a church based Christian school
DESIRED CHARACTERISTICS:
A servant-leader whose conduct exemplifies Christian character, personal integrity and professionalism following the principles of James 3:1, Titus 1:7-9 and 1 Timothy 3:1-13.
Strong relationship-building skills that span the school constituency, from administrators to faculty and staff, students and their parents, church leaders and members, as well as the broader local community.
Excellent oral and written communication skills with the ability to articulate the value and distinction of a classical Christian education
Approachability with the ability to engage, inspire and motivate.
Ability to see and cast vision under the leadership of the School Board.
Ability to assist in building a vibrant academic culture working alongside our Director of Academics and Christian Virtue and Divisional Principals.
Ability to inspire confidence in all constituents.
Strong desire to build the spiritual, physical, social, emotional and academic foundations of all students in preparation to impact the world for Christ.
A strategic and collaborative thinker who uses their ability to see the big picture to evaluate and make thoughtful decisions for the school.
Ability to lead in casting vision through being creative and looking at situations from a new and fresh perspective while collaborating with others.
Ability to "sell an idea" across levels and responsibilities by creating buy-in from stakeholders
Dresses in appropriate professional attire.
SPECIFC RESPONSIBILITIES:
Spiritual Leader
Serves as the spiritual leader of the school by exemplifying Christ-like character and holding themselves to a high biblical standard of accountability for their actions and demeanor.
Exemplifies the work ethic of Colossians 3:23 – "Whatever you do, work at it with all your heart, as working for the Lord, not for men."
Recognizes and upholds the balance of an academic ministry by working with the Assistant Pastor of the Academy to make sure pastoral care is provided to all stakeholders of the academy.
Coordinates with the Assistant Pastor of the Academy to make sure weekly chapels are executed with excellence. The chapel time should be an important part of every student's weekly experience.
Takes responsibility, along with the Leadership Team, for the spiritual formation of all students.
Shepherds the faculty and staff and provides servant-leadership.
Makes decisions based on Scripture and exhorts others to do the same.
Promotes prayer as an essential part of life by creating a culture of prayer in the school.
Seeks to glorify God in all things and creates a culture that supports that goal.
Organizational Leader
Oversees and holds staff accountable to the school's mission and vision. Ensures that annual performance evaluations around mutually agreed upon goals and objectives are completed. Faculty will report to and be evaluated by Divisional Principals ultimately reporting to the Director of Academics and Christian Virtue.
Supervises Director of Academics and Christian Virtue, Athletic Director and Admissions Coordinator.
Ensures Admissions policies and procedures are followed and upheld in accordance with the direction provided by the School Board. Responsible for the ultimate admissions decision for any disputed enrollees.
Serves on the following ACSI Committees: Philosophy and Foundations (Standard 1), Governance and Executive Leadership (Standard 2).
Oversees all human resource functions including making sure documentation for corrective actions and employee evaluations are present in all employee files.
Develops, along with the Leadership Team, a sound program for the spiritual and academic growth of the faculty and staff through in-service, conferences, and orientation workshops. Holds regular faculty and staff meetings in conjunction with the Leadership Team.
Leads the school in all legal matters pertaining to education by staying abreast of legal requirements and trends.
Utilizes the resources and participates appropriately with organizations such as ACSI and the Tennessee State Board of Education, in order to keep abreast of current, major trends in education in general and Christian education in particular. Also files all required paperwork with the State of Tennessee.
Oversees the development of the annual school calendar along with the Leadership Team.
Attends all school board meetings and assists in creation of agenda one week prior to the meeting.
Leads the school in maintaining ACSI Accreditation. Will potentially lead in the process of attaining ACCS accreditation.
Leads the FBA School Board in preparing an annual school budget.
Oversees budget compliance throughout the fiscal year for all departments and codes.
Working alongside the Finance Team, oversees the collection of tuition accounts, all accounts receivables and payable.
Handles grievances of faculty and staff that cannot be resolved on the divisional level. Becomes the final point of appeal prior to involving the School Board.
Heads final dismissal of faculty and staff who do not perform satisfactorily based on recommendation of the Director of Academics and Christian Virtue.
Oversees the continuous enrollment and new enrollment campaigns annually.
Assists Director of Academics and Christian Virtue in determining the needs for hiring personnel, conducting interviews for needed personnel, and making appropriate recommendations to the FBA School Board.
Holds Director of Academics and Christian Virtue accountable for ensuring student discipline follows the school's written policies and procedures are enforced fairly across the entire school without partiality.
Serves as the last appeal, after the Divisional Principal and Director of Academics and Christian Virtue, for parent concerns and issues regarding educational and behavioral issues.
Gives direction and recommendations to the FBA School Board on agenda items.
Ensures that appropriate safety measures are in place on campus to provide a reasonably safe school environment.
Organizes and promotes missions opportunities for students, faculty and staff working in conjunction with First Baptist Powell missions department and Assistant Pastor of the Academy.
Determines when school is to be closed or delayed opening due to adverse weather conditions or emergencies.
Other duties as assigned by the FBA School Board.
Relationship Builder
Regularly attends school events and is visible throughout the school day to build deep relationships with all stakeholders.
Ensures that the relationship between the school and other church ministries remains strong by regularly attending internal church staff meetings and being the main point of contact for all church-related issues. Understands that the school functions as a ministry of and under the authority of First Baptist Powell and works to protect and preserve that relationship. Facilitates good relations with all church leadership, staff, and members. Takes responsibility for scheduling all school events with other church ministries and handles any disputes over facility use.
Represents First Baptist Academy as a member of our community. Looks for opportunities to promote the school in the community through regular meetings with community leaders as well as participation in community events.
Develops and maintains a good public relations program with school family, local church ministries, and the general public.
Promotes good communication between the faculty, staff, Leadership and Board.
Oversees regular communication with the constituencies of the school through newsletters, direct mail, weekly news, social media and website by working with the Director of Communications.
Ensures constituents and stakeholders are given opportunities to provide feedback to leadership regarding decisions of the school, a practice that promotes a culture of participation and transparency. Works with the School Board to plan the annual survey, advisory committee meetings and other feedback mechanisms.
Builds relationships with donors and prospective donors.
Fosters good relationships with other churches in the community.
Holds faculty, staff and Leadership Team accountable for timely communication and follow up with all constituents.
Networks with other local Christian schools as well as association leaders.
Builds a team environment to foster collaboration between all constituents. Ensures the Leadership Team functions as a cohesive unit.
Vision Champion
Develops a strategy to more clearly exhibit the distinctives of the Ecclesial Academy Initiative.
Champions the nature and distinctives of classical Christian education among all stakeholders and throughout the broader community in and around Powell, TN.
Understands and supports the Mission, Pillars and Aims of First Baptist Powell and ensures all school activities align with, support, and enhance them.
Communicates the school's vision inwardly and outwardly and creates a culture that supports and executes the vision.
Creates marketing and communication materials to clearly communicate the distinctives of the Ecclesial Academy Initiative.
Organizes events and opportunities to display and communicate the Ecclesial Academy Initiative.
Cultivates an environment at First Baptist Academy on account of which graduating students reflect the Portrait of a Graduate.
Makes decisions for the benefit of the entire school as opposed to individual gain.
Holds faculty and staff accountable for execution of the vision.
Oversees the planning of long and short-term fundraising endeavors to accomplish fundraising goals and further the vision of FBA while ensuring that fundraising reflects the guidelines approved by the FBA School Board and FBP Elders.