Kindergarten Teacher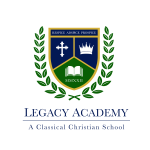 Website Legacy Academy
Position Description
Legacy Academy is seeking a full-time kindergarten teacher for the 2023-2024 school year.
Legacy opened in 2022 with grades 1-8 and seeks to open kindergarten this fall as we continue to grow in our second year.
We are seeking teachers who by the pattern of their lives know and love God, His Word and His children and are gifted and equipped to teach.  For the kindergarten position, candidates must be committed to helping us develop a Christ-centered classical curriculum and build a program of virtue and excellence for our youngest students.
Resumes & cover letters can be submitted to Karen Barbrow, Head of School, at [email protected]