Head of School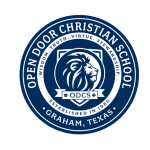 Website Open Door Christian School
Head of School Position Graham, Texas
735 Oak Street,
Graham,
Texas
76450
Position Description
PreK – Secondary Principal
Date Posted: March 28, 2023
School: Open Door Christian School, a ministry of Oak Street Baptist Church Location: Graham, TX
Date Available: June 1, 2023
Closing Date: April 25, 2023
Salary Range: $45,000 – 55,000
Qualifications
Has received Jesus Christ as Savior and Lord
Is a mature Christian, knowledgeable of biblical truth and its application to school administration
Able to integrate biblical truth and its principles into the curriculum of the school
Has earned a Bachelor's Degree in education from a recognized, accredited college or university required, with Master's degree preferred
Possesses a valid standard administrator certification (preferred) or is qualified to receive such certification
Minimum of 4 years of teaching experience required with some administrative experience preferred
Accepts without verbal or mental reservation both the doctrinal statements in The Baptist Faith and Message as adopted by the Southern Baptist Convention and the Oak Street Baptist Church Statement of Faith and is committed to upholding them
Is in good physical and mental health Responsibilities Spiritual Leadership
Show evidence of being a student of the Bible
Maintains active membership in Oak Street Baptist Church
Demonstrate fruits of the Spirit
Assist teachers in integrating biblical truth in instruction
Maintain high standards of ethics and honesty                     Organizational Management
Abide by the school's Mission Statement to provide a Christ-centered educational environment where we can teach the mind as well as the heart and soul of children so they are equipped for lives of Christian love, service and leadership
Oversee the budget insuring good stewardship of available resources
Understand data information systems and data analysis and utilize computer network systems and various software applications
Maintain a visible presence in classrooms, on campus, in Oak Street Baptist Church, and in the community
Maintain and routinely update the school website
Organize and oversee all school fundraising activities Parent/Constituency Relationships
Encourage parental involvement in students' education and ensure effective communication with students and parents
Give attention to problems and opinions of all groups or individuals
Be easily accessible to students, staff, and parents
Deal effectively with controversial issues and critical situations Personnel Management
Responsible for recruitment and hiring of faculty
Work with faculty to identify areas of growth needed and to write professional development plans
Provide the faculty with professional development opportunities to meet identified needs
Schedule classes, students, faculty, and staff maximizing available space and personnel
Delegate well while maintaining responsibility Instructional Leadership
Responsible for all areas of the curriculum
Conduct ongoing assessment of student learning and work with teaching staff to modify instructional methods to fit students' needs
Supervise and evaluate teaching staff and support staff and make recommendations regarding goals, areas needing improvement, and continued employment
Create a climate of high expectations in the school characterized by a tone of respect for teachers, students, parents, and community
Coordinate weekly chapel programs and student activities
Coordinate and supervise the lunch program                               Additional Duties Perform other related tasks as assigned by the Board of Directors of Open Door Christian School.
Interested candidates should contact LeAnn Stetson at [email protected] for an application and full job description. Candidates should submit an application, resume, copies of teacher and administrative (if applicable) certificates and official transcripts no later than April 25, 2023. Follow our website to learn more about Open Door and the Graham community.
www.opendoorgraham.com