Elementary Classroom Teacher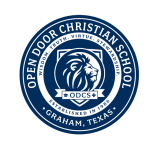 Website Open Door Christian School
Elementary Classroom Teacher - Graham, TX
735 Oak St,
Graham,
Texas
76450
Position Description
Summary
The primary responsibilities of a teacher at Open Door Christian School are to love students, love learning, and serve parents. When faithfully carried out, the teacher equips students with the tools of learning and cultivates humility and gratitude toward God. This individual should exemplify a lifestyle that brings honor and glory to God through Jesus Christ and demonstrate a commitment to the mission and vision statement of ODCS.
Salary/Benefits
1) Full-time, 10-month position (salary paid over a 12-month period)
2) Optional retirement account
4) 8 Personal/Sick Leave Days
Essential Duties & Responsibilities
1) Personal
a) humble, joyful, teachable, and called are the most important qualities for a teacher to be successful at ODCS.
2) Teaching
a) Philosophy & Classroom Management/Environment
i) Familiar with the classical Christian concept of paideia.
ii) Strive for excellence by seamlessly integrating all "subjects," with the affections of the students always at the forefront.
iii) Keep the teleology of classical Christian learning at the center of all lesson planning.
b) Able to maintain a dynamic classroom environment that fosters joyful rigor—one that seeks to mold the students' affections to Christ and his creation first, and their GPA's second. ODCS is an environment of grace where the students feel comfortable succeeding by failing.
c) Know there will be an expectation to hold the students to the standards and principles of righteousness.
d) Believe that discipline and correction  are for the purpose of worshiping the Lord with all our heart, soul, mind, and strength, and to help students think more highly of others than themselves.
e) Exhibit a passion for learning and teaching.
f) Grow in proficiency in humanities-based subjects and the ability to teach different students with varying skillsets.
g) Enjoy the various forms of explanation and adept at implementing them.
h) Able and willing to make oneself available to have lunch with struggling students or go out of the way to explain that difficult word to that one student who cannot quite reconcile it.
3) Classroom Decorum and Discipline
a) Be very familiar with and able to apply the spirit, as well as the letter, of the school's rules. An orderly (not necessarily silent) working atmosphere is to be the norm. Students should be aware of the classroom and school rules and be encouraged to exercise self-discipline. When administrative discipline is necessary, the teacher is expected to diffuse and deal with the vast majority of corrective discipline situations within the classroom.
b) Maintain a neat, organized, clean, and stimulating classroom environment for students. This implies that the students will take an active part in cleaning and maintaining their room's appearance.
4) Lesson Preparation and Presentation
a) Have a thorough knowledge of and interest in the assigned subjects. All subjects should be taught utilizing the objectives, materials, priorities, and methods prescribed in ODCS's Curriculum Guide.
b) Encourage the students to see how all subjects are interrelated, as parts of God's integrated universe. Clear language and appropriate vocabulary are also expected.
5) Applying Christian Worldview
a) Look for and apply scriptural principles to daily lesson plans.
b) Encourage students first to recognize God's handiwork and creation in all areas of life.
6) Student Learning
a) Seek to stimulate and maintain the students' interests in the material. Recognition and reasonable compensation for individual needs is also necessary. A variety of techniques (in addition to testing) should be used to measure the students' progress.
7) Planning and Communications
a) Reflect creativity in quarterly plans and use class time wisely. Copies of the weekly lesson plans are to be turned in each Monday to the Head of School.
b) Regularly communicate with parents. Emphasis should be placed on getting to know the families well, as well as letting them know what is happening in the class. The parents should feel welcome to visit and assist in the classroom.
8) Professionalism
a) Consistently and joyfully demonstrate pride in ODCS by one's work, punctuality, speech, attitude, dress, and attention to duties.
Contact: Brandi Menard, Head of School. 940-549-2339, [email protected]
Follow this link for application.