2nd Grade Teacher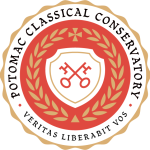 Website Potomac Classical Conservatory
Veritas Liberabit Vos
2405 Russell Road,
Alexandria,
Virginia
22305
Position Description
Do you love Jesus, children, teaching, and working 6 miles from The White House? Consider joining our expanding team!
Entry-level starting salary: $40,000 (part-time schedule). Beyond that, salary commensurate with experience. Full job description here.
The Potomac Classical Conservatory is an exciting, growing, Kindergarten to 9th grade (adding one grade per year) collaborative-model school in Alexandria, Virginia. Our students formally meet for classroom instruction on Tuesdays, Wednesdays, and Fridays, thus allowing them to complete schoolwork assignments at home on Mondays and Thursdays with their families.
We count it a tremendous privilege to work alongside parents to help students learn, grow, and flourish. This work goes far beyond simply importing knowledge and grading exams. We aim to invest in the lives of our students, partnering with families to nurture the seeds of wisdom and faith that will help them bear fruit for a lifetime.