Logic & Rhetoric Teacher Full-Time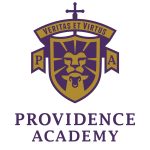 Website Providence Academy
3435 Shawano Ave.,
Green Bay,
Wisconsin
54313
Position Description
We are seeking talented full-time upper school teachers who have a passion for discipling students for Christ and his Kingdom. We are looking to fill multiple positions in the areas of ancient history and literature, US history and literature, English and composition, Bible, and leadership development. Qualified candidates will possess an undergraduate degree in a related field with preference given to candidates with a graduate level degree and/or a minimum of two years teaching experience.
Providence Academy is a fast growing 30-year-old ACCS member school with an anticipated 2023-2024 enrollment between 225 and 250 students. We recently completed a 51,000 square foot brand new facility and have begun preliminary plans for the next building phase.
If you are interested in a position at Providence Academy, please download and return our teacher application via email to [email protected]