2nd Grade Teacher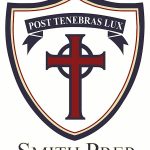 Website Smith Preparatory Academy
Cultivating Christian Virtue, Recovering Christian Humanism
4921 S US HWY 17/92,
Casselberry,
Florida
32707
Position Description
Smith Preparatory Academy, a classical Christian school in the North Orlando area, is looking for a teacher for our 2nd Grade class for the 2023-24 academic year.  The core subjects in this grade are mathematics and language arts (reading, phonics, grammar, spelling).  Second graders also spend time studying Science and History.  In addition, all lower school classes read the Bible and pray together each morning.
Our school has served our community by cultivating virtuous scholars for over 25 years.  We emphasize the relationship between student and teacher and seek teaching candidates that model truth, goodness, and beauty to our students.
Our school runs a Traditional program concurrently with a Cottage (2-day) program.  Teachers instruct core subjects Monday through Thursday, attending training and/or field trips 1-2 Fridays per month.  Some teachers also lead classes on Friday mornings for our Common Arts program.
Applicants must have a bachelor's degree in a related field. Experience in or familiarity with classical education is preferred, though we are willing to train. Interested applicants should submit a cover letter, resume, and list of references to Carolyn Hunter at [email protected]