Rhetoric School Teacher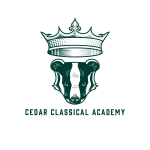 Website Cedar Classical Academy
Position Description
Rhetoric School Teacher (FTE)
In 2022 we will expand from K-8 to K-9, with a goal of growing to K-12 by 2026. To launch our Rhetoric School in 2022, we seek a qualified teacher of Upper School Humanities. Qualified applicants will possess a graduate degree in history or classical studies, with skill in teaching a foreign language (Greek and Latin preferred). Prior experience teaching is required (at the secondary and/or college level preferred). The Rhetoric School Teacher shall teach the following course load:
Ancient History (9th Grade)

Great Books I (9th Grade)

Third Form Latin (9th Grade)

Rhetoric (9th Grade)

Old Testament Survey (9th Grade)
This is a full-time salaried position starting July 1. The teacher shall attend a classical school conference with the staff in July. Teacher training is provided in early August.
The teacher shall be a born-again believer able to clearly articulate the gospel and a member in good standing of a local church. Applicants should carefully review our Mission Statement, Vision Statement, and Statement of Faith. Download the application here and send it to [email protected]org. We require background checks and fingerprints for all employees and volunteers.