Music Teacher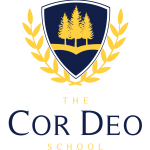 Website The Cor Deo School
20 Tacoma Avenue South,
Tacoma,
Washington
98402
Position Description
The Cor Deo School is looking for a music/choir teacher who can teach K-8th grade students.  This person would be responsible for leading two all-school choir performances/year (Christmas and Spring), creating weekly lesson plans, and introducing students to different genres of music.
Through daily music classes, our elementary music teacher would introduce students to various musical performers and styles. Students would learn about creating, performing and listening to music. An ideal teacher would provide students with basic vocal instruction and teach them about various instruments, including percussion, brass, woodwinds and string instruments. They would be able to create hands-on activities to teach children pitch, rhythm and music notation. Like other teachers, this individual would evaluate performances, grade tests and prepare lesson plans.
The ideal candidate would have a bachelor's degree in education or equivalent experience in music education.