Primary School Teacher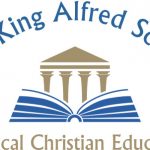 Website AlfredClassical The King Alfred School
Lake Street Methodist Church, Lower Gornal, Dudley DY3 2AU United Kingdom,
Position Description
The King Alfred School is seeking one to two full time missionary teachers to join our staff for the 2022-2023 school year. We are a small and growing classical Christian school in the midlands of England. Our school is about 45 minutes from the city of Birmingham and right on the edge of the English countryside. Our school opened just this past year, in September of 2021. Led by a local English couple, our team also includes two missionary teachers from Phoenix, Arizona.
You would join a team of hardworking, dedicated teachers and staff who have established the United Kingdom's first classical Christian school. In addition to the normal work of teaching, we are also in the process of developing a curriculum that is classical, Christian, and British. As no current curriculum exists, there is still exciting work to be done in adapting American curriculums for England.
Due to the relative novelty of our endeavor, we are asking that candidates have experience in teaching at a classical school. They also must have a good understanding of classical pedagogy and possess a distinctly Christian view of the purpose of education.
Our school currently offers education for the British equivalent of Pre-K to 6th grade. While classes will depend on enrollment, most of our students will be in the 3-10 age range. When you contact us, please indicate with what age range you have the most experience.
Responsibilities
The candidate will be responsible for teaching all subjects to children at the age range best suited for them. Next year, we anticipate having students from Pre-K to 5th grade. If you have experience teaching these ages, please mention it in your communication. Primary/Grammar school experience is not required, but it is a positive. Once hired, the candidate will be responsible for the planning and delivery of lessons, monitoring and assessing students' progress, and communicating effectively with staff, parents, and governors.
We also welcome any help they can provide in the work of re-establishing classical, Christian education in England.
Essential attributes:
The candidate should:
Be knowledgeable of the Bible and Christian history.
Be knowledgeable in classical education.
Have classical teaching experience.
Value England's Christian heritage.
Be hardworking and resourceful.
Have strong classroom management skills.
Have a passion for teaching and learning.
Genuinely love and care for their students.
Have high student expectations
Helpful Experience:
While not mandatory, do let us know if you have the following:
Experience being educated in the classical model
Leadership/administration experience
Experience teaching Fine Arts
Interested?
To begin the application process, send us an email.