Head of a Rafiki Classical Christian School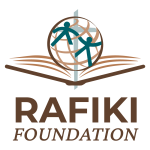 Website https://www.youtube.com/watch?v=YwJy_R-3xiY The Rafiki Foundation
God's Word at Work
PO Box 1988,
Eustis,
Florida
32727
Position Description
As the Head of a Rafiki Classical Christian School, or Principal of either a primary or secondary school, you will disciple the teachers that serve with you as well as see that children in need receive the best education in the region.
Over 300 to 400 students daily attend Rafiki schools in which they receive daily Bible study, two meals a day, and the best education around.
You are responsible for teacher training, curriculum implementation, and ensuring a high quality education for some of the "least of these" in the world.
By overseeing a Rafiki school, you get to preserve a model education system that will be replicated dozens of times over in the community and around Africa as Rafiki seeks to place its curriculum and trained teachers throughout Africa to flood the continent with reformational truths and classical Christian education.
Position Qualifications
·         A follower of Christ whose life exhibits the good works and fruit of the Spirit which accompany salvation
·         A Master's Degree
·         A willingness to raise prayer and financial support
·         The successful completion of missionary training at the Rafiki Home Office in Eustis, Florida
·         Agreement with Rafiki's Statement of Faith